Submitted by

admin

on Fri, 23/05/2014 - 00:53
VNE was the talk of the ENADA. The VNE stand was busy from the beginning to the end of the Rimini exhibition. The VNE team took a light-hearted stance to present a very serious subject – the true focus on quality that shines through.
Being a step ahead in the change machine market, VNE is rightly seen as the company that shapes the market in the change machine segment. The ENADA was the right exhibition at the right time for spread the message to market participants: there is much more behind change machines than just its price. Quality, flexibility, service, online support – all these terms and more stand for VNE.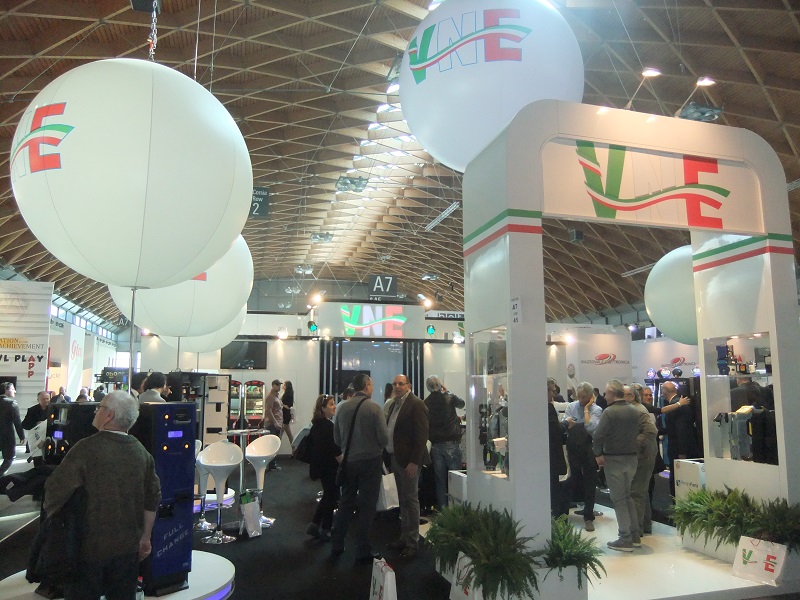 The party atmosphere with live music and great food and drink drew in the crowds. The product quality and friendly staff kept them there. A new design to the change machines was a further plus. All VNE change machines can be connected to the internet to make full use of the VNE online customer-support and for operators to have full control of their VNE change machines.
VNE uses only the best components. The team took the opportunity to display such major components from Merkur Gaming, MEI, Suzo-Happ, Money Controls, NRI and JCM – these companies all had staff present on the VNE stand to give first hand information to customers.
Mr. Lorenzo Verona, commercial director at VNE, summed up the show, "Gaming is part of the entertainment industry. So we used the ENADA to entertain our customers on our stand. But our message was loud and clear – VNE is the number one for change machines in Italy as we focus on innovation, quality, security and service. It is our strong intention to remain one step ahead in the market".