Submitted by

admin

on Thu, 19/09/2019 - 15:27
OUD-BEIJERLAND, THE NETHERLANDS September 19, 2019 – SUZOHAPP is proud to announce that it has received the 'Fastest Growing Vertical' award from Newland. This was presented during the Newland Partner Event that took place in September in Ireland.
The global partnership with Newland only began this year and in this short space of time the SUZOHAPP team has registered considerable success. SUZOHAPP has excellent relations in all gaming channels on a global perspective and has ensured that Newland has become the new name for scanners. Particular success has been registered in the sports betting market.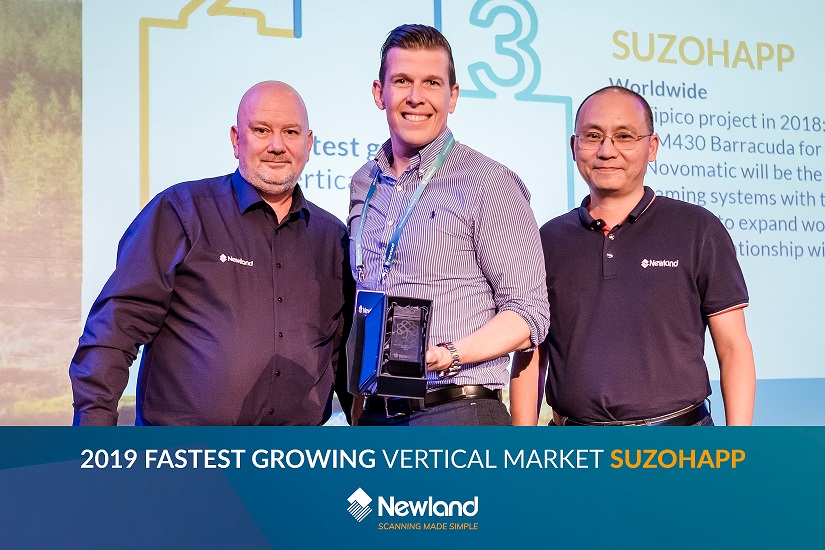 Goran Sovilj, Executive Vice President Gaming & Amusement EMEA for SUZOHAPP received this prestigious award from Mr. Guo, CEO of Newland Auto ID and Peter Sliedrecht, CEO of Newland EMEA. Goran himself noted, "I am very proud of my team here in the EMEA region. We bring proven the value we bring to the industry. We have introduced a scanner to the market that has quickly been accepted by a growing number of OEMs as the preferred scanner given its technological benefits and proven quality. Indeed, this award reflects our long-term commitment to the global gaming industry".
About SUZOHAPP
SUZOHAPP is a technology company providing software and hardware for cash handling automation and self-service solutions to more than 25,000 customers throughout the world. SUZOHAPP's technology enables automation for customers operating in a variety of end markets, including retail, transportation, gaming, banking, vending and amusement. SUZOHAPP's solutions include cash deposit, recycling, processing and payment systems as well as a broad range of self-service component technologies. The brands of SCAN COIN, Comestero, CashComplete™ and Coinco are united under the SUZOHAPP Company. SUZOHAPP's more than 1,100 employees operate in 19 countries and its dealer network covers more than 100 countries. More information is available at www.suzohapp.com. SUZOHAPP is owned by affiliates of ACON Investments, L.L.C., a Washington, D.C.- based international private equity investment firm that has responsibility for managing approximately $5.5 billion of capital. For more information, visit www.aconinvestments.com.