Submitted by

admin

on Tue, 18/06/2013 - 00:48

(JEONGSEONGUN, South Korea)  Kangwon Land, South Korea's largest casino located in Gangwon Province, recently finished deployment of SPIELO International™'s GALAXIS™ casino systems solutions on all of their 960 slot machines. Among the modules selected by Kangwon Land was GALAXIS Jackpots, which is used to centrally manage 153 different levels of progressive and mystery jackpots on 18 jackpot links, and there are 80 stand-alone jackpots.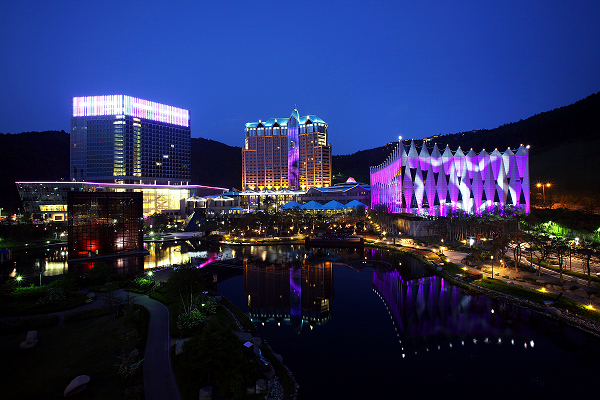 "In many cases customers use a management system, but still need an external controller to run the jackpot. Our system can manage all jackpot activity, which in the end simplifies the IT requirement and saves the customer money," said Chiang Lai Fatt, SPIELO International's Asia Pacific General Manager. "This project also highlighted our system's reliability in handling high levels of player traffic: at Kangwon Land there are more than 150,000 system transactions every hour."
Kangwon Land is the busiest casino in the country, and it is the only one that allows the admission of Koreans, as all others are exclusively for visitors. It is so busy that there are queues at the slot machines, which boast 95% occupancy. This made the slot system migration a challenge, as most of the slots are being played at any given time, but SPIELO International rose to the challenge. "We are extremely happy and satisfied with SPIELO International, their casino systems products, and also all of their staff that we dealt with. The whole migration was so smooth that it hardly affected our daily business. We would like to thank SPIELO International for their efforts on this project," said Ju Haejung, Senior Manager, System Management Department at Kangwon Land.
A key strength of the GALAXIS casino system portfolio is that it offers robust, market-tested, modular solutions and customers can choose only the modules they need. SPIELO International also customized certain elements of GALAXIS for Kangwon Land, such as providing Korean language support for the system. Products chosen by Kangwon Land for installation at their facility include the following GALAXIS modules: Jackpots, BONUSING, Slots, Cashless, Marketing, Connect, and Multimedia.
SPIELO International is committed to the Asian gaming market, and its Casino Systems division increased its market penetration by nearly 300% in 2012. As the business continues to grow significantly, the company will continue strengthening its local support teams and working closely with its customers, both through their distributors as well as directly in many Asian markets.