Submitted by

admin

on Fri, 22/11/2013 - 00:32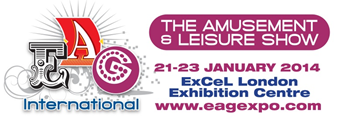 The description 'iconic' is frequently over-used, as are the terms 'global' and 'worldwide' when describing the reach of a company. However, In the case of SEGA Corporation, these descriptions are more than appropriate with company's roots stretching back to 1940.
Boasting an illustrious 70 year history throughout which its products have secured a place in the hearts and homes of millions, SEGA remains at the fore today in the modern digital entertainment arena. Indeed, its games continue to dominate and command an essential part of visitor attractions and entertainment centres in virtually every country.
The breadth of SEGA's vision has been well illustrated by the opening of Orbi in Yokohama, Japan earlier this year. A collaboration between SEGA and BBC Earth, Orbi is an attraction that delivers powerful multi-sensory experiences based on the natural world.  Described as 'nature supercharged' Orbi employs sound, touch, scent technology, fog, wind and imagery to immerse the visitor in nature, in a way that would be impossible in the real world.
General Manager Justin Burke, himself the third generation of an amusement industry family, revealed that the company continues to develop and will now be further strengthening its position within the industry following the creation of a turnkey projects division, branded SEGA Turnkey Entertainment Solutions.
Justin explained: "We've always prided ourselves on being close to our customers and view the relationship with them as long-term, evidenced by our investment in support. Our new turnkey projects division is designed to leverage our years of experience in hundreds of projects for the benefit of our customers.
"We have a culture of working with our existing customers on new projects and the industry is now attracting a new breed of investors, hungry for expertise. SEGA Turnkey Entertainment Solutions can effectively address all aspects of a project including master planning and design, rides, arcades plus food and beverage. The service encompasses everything from original design, through to implementation of the best possible solution for the client," assured Justin.
For many, SEGA Turnkey Entertainment Solutions will be introduced for the first time at the upcoming EAG International Expo, a show which the company has been a strong supporter of since it was introduced in 2010.
SEGA Amusements Europe will occupy a large stand to showcase its latest products and developments. "For us, EAG International 2013 was the best yet" revealed Justin. "Despite somewhat adverse weather our success was confirmed by the amount of business written. We very much view the show as one of the 'Big Four' and have new product launches specifically targeted at EAG International."
A prolific designer, developer and manufacturer of games, as well as a distributing for other leading manufacturers, SEGA Amusements Europe also sells both generic and licensed prize merchandise and supports its customers with a thriving spares and parts division.
For SEGA Amusements Europe, 2013 has been a good trading year: "We are growing on all fronts with both Europe and the USA performing well," revealed Justin. "The good summer this year has given a shot in the arm to cash box takings and there are new people coming into the business and these are serious investors who will make it work."
Justin confirmed that EAG International 2014, will witness the European launch of stunning new games developed under recently acquired Transformers and Plants vs. Zombies™ franchises.
With preparations for EAG International 2014 well underway Justin confided: "I have to admit that I get quite a buzz from seeing the stand come off the plan.
" We're excited about revealing our latest products and services and are looking forward to meeting customers, networking and laying foundations for the year to come. We've been delighted at the involvement of BALPPA members in the show, both visitors and exhibitors – we share the same culture. As EAG International grows, we would welcome more representation of products and visitors from the larger parks."
EAG International 2014 takes place at Excel London on January 21-23rd. For registration, exhibitor details and information on travel and accommodation, visit www.eagexpo.com