Submitted by

admin

on Fri, 22/11/2013 - 00:44
Russian Gaming Week in Minsk will be held next week! It is a short notice, so hurry up to register!
We have new participants, new speakers, and new reports!
Have you ever been to sensory gambling establishment? Scientists have proven that use of special scents and sounds that excite sensory centers, which work with subconscious mind, create comfortable atmosphere in gambling establishment, produce a unique association with the brand and increase profits by several times.
We would like to bring to your attention new exhibitor of RGW'Minsk - company Market Music, which offers complete professional sensory marketing (audio, video and scent marketing) specially for gambling business in the Republic of Belarus, Russia and other CIS countries.
At RGW conference to be held on November 27, 2013, Market Music experts Konstantin Elenev and Kiril Kirin will speak on "Casino: how to increase revenue playing upon heart springs?" and will tell about marketing tool of new millennium, and its hidden reserves of casino effectiveness, will highlight principles of working with scents and sounds that provide opportunity to increase revenue by 30-40% and make brand casino atmosphere totally unique.
Another new RGW speaker is Athanasios-Thanos Marinos, CEO at EBGC, Betting Entrepreneur (Greece); he will speak on "Betting and gambling industry in Europe".
Athanasios-Thanos Marinos has a strong executive career portfolio with a successful track record of over 10 years in the betting and gaming industry. His distinct competence is the conceptualizing, design, development and implementation of strategies and initiatives that drive business upwards (growth, profit, shareholder value) and give an edge to any project/company.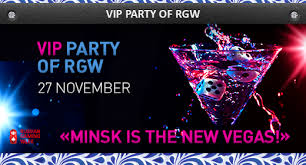 You can talk to speaker on November 27, 2013, at RGW conference.
We are waiting for you on 27 and 28 November in Minsk at National Exhibition Centre "BelExpo" (Hall A).
Address: Minsk, 27 Yanki Kupalu str.
For more information about expo-forum Russian Gaming Week Minsk and conference program please visit
minsk.rgweek.ru
Tel.: +7 (495) 212-11-28