Submitted by

admin

on Wed, 11/09/2019 - 10:43
The UK casino and gaming community has once again hit a hole in one for children's charity CHIPS with a record 120 golfers supporting the annual CHIPS Charity Golf tournament held at the prestigious Woburn Golf Club.  The tournament, which is CHIPS flagship fund raising event of the year, generated a total of £55,000, up on last year's figure of £35,000.  Leading  gaming brand Genting Casinos (UK) underlined its status as one of the charity's key partners presenting a cheque for £104,000 to CHIPS co-founder, Linda Lindsay.
Reflecting on the tournament, Linda Lindsay, said: "It was an absolutely fantastic day and wonderful to be able to host  our largest ever turnout of golfers. I never cease to be amazed and humbled by the generosity and compassion shown by our industry.  The fantastic cheque for £104,000 from Genting Casinos, is sufficient to purchase at least 12 bespoke powered wheelchairs and in the process transform the lives not just of the recipients but also the lives of their families."
She added: "I have attended almost all of the 550 wheelchair presentations that CHIPS has been able to make thanks to the generosity of the gaming industry and I can vouch for the life changing impact each and every wheelchair has made – and it's all down to this industry and amazing supporters such as Genting.  On behalf of my Trustees can I say how immensely grateful we are to everyone from the industry who has supported CHIPS and in the process helped to make this tournament the best event of its type on the casino and gaming industry calendar."
Paul Willcock, President and COO at Genting Casinos (UK) who presented the bumper cheque alongside Irene Nuqui, Cashdesk Manager at Palm Beach, said: "On behalf of everyone at Genting Casinos can I say how delighted we are to support this outstanding charity which undertakes such magnificent work in the community and embodies the compassion and generosity of our industry.  The team at Genting Casinos has gained immense enjoyment, pride and purpose from supporting the work undertaken by Linda and her Trustees and I am delighted to be able to present her and the CHIPS charity with this cheque for £104,000."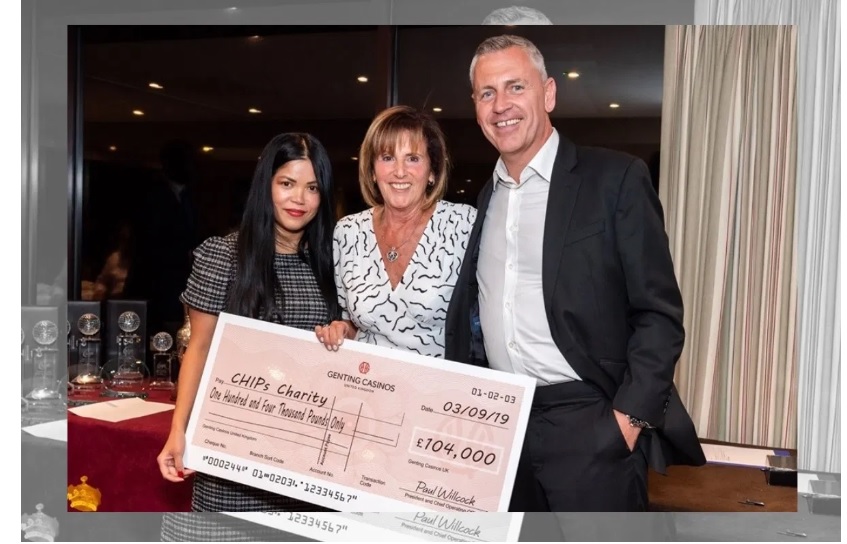 Image: Irene Nuqui, Cashdesk Manager at Palm Beach, Linda Lindsay Co-Founder Chips Charity and Paul Willcock, President and COO at Genting Casinos (UK) 
The charity golf day saw the Grosvenor Casinos team, comprising David Kenny, Adrian Frost, Mark Grogan and Roger Quelsh, winning the tournament for the second consecutive year with 81 points and the runners up position was claimed by a new team from the independent UK spares and repairs company, E-Service, featuring Mike Clokie, Mark Sowray, David Sherwin and Carl Bearman. There were a number of individual winners with Mike Clokie, MD of E-Service named as best player, Sue Kennedy of the Ritz Casino as the ladies winner and Jay Clarke of Horizons Casino the event's individual winner on points. Roger Quelsh, Melvin Alan and Ashley Matters took home the Nearest the Pin on the 8th and 17th holes and Longest Drive prizes respectively.
CHIPS is one of the UK's most efficient charities with 100% of the monies raised used to purchase powered wheelchairs for young people across the UK.  CHIPS wheelchairs can cost up to £7,500 and are custom-designed to meet the specific needs of the individual recipient. Born out of the industry, CHIPS has raised in excess of £2.4m, enabling it to purchase 550 wheelchairs.
For more information on the work of CHIPS visit: www.chipscharity.org