Submitted by

admin

on Wed, 16/10/2013 - 18:53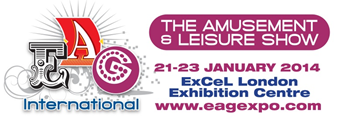 EAG International is celebrating the launch of the show's new website, proudly describing the latest incarnation as "the culmination of a continuous cycle of improvement and investment."
Show Organiser Karen Cooke explains: "The 2014 show will take place on 21-23rd January at ExCel London Exhibition Centre and preparations are already at an advanced stage. The launch of the new site has been timed to coincide with the opening of registration, so we are expecting a large number of visits from day one."
The original EAG International site was always a reputable source for detailed information but the new site represents a shift toward a more dynamic initiative. 
With a fresh new look and greater clarity, www.eagexpo.com has been designed for speed and ease of navigation with key areas immediately visible.  As before, visitors and exhibitors can register for the show, reserve stand space and arrange their accommodation at the site. 
The returning guest will however also be rewarded with access to the latest news regarding the show, exhibitor information including updated floor plans, details of events around the show plus direct  access to a host of industry online news publications and trade supporters.
Karen continues: "We believe that the new EAG International site really harnesses the power of the internet for the good of all the show's stakeholders and will assist everyone in getting the most out of the event. We urge everyone to visit the website regularly but I would also like to make the point that EAG International is regarded as a very personal show and we will never lose the direct contact many of our exhibitors and visitors prefer. 
"Actually, it's about choice; you can have all the information, literally, at your fingertips but if you prefer to have a chat about something, just give us a call. We'll be delighted and it's what we're here for," she urged.
Registration for EAG International 2014 is now live at www.eagexpo.com