Submitted by

admin

on Fri, 03/01/2014 - 19:20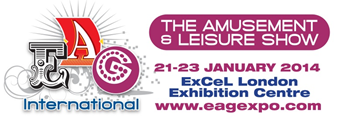 Namco Europe Ltd is preparing for a spectacular launch to 2014, booking additional floor space at EAG International to accommodate its largest ever showing of new games. Namco Europe's John Brennan explains: "EAG International 2013 was a great show for us, not only in terms of the number of visitors we welcomed onto our stand, but also for the amount of orders received. We anticipate that 2014 will see us gathering further pace and momentum and to this end we've reserved additional floor space at the event."
Namco Europe's stand has been a prominent feature of all EAG Internationals since the show's inception, but Namco roots go back to the very beginning of video games, and the company's release of early blockbuster games such as Pac-Man. Today, Namco Europe's parent company, Bandai Namco Games, is established as a global force in the entertainment, toys and amusements sectors.
After a year of sustained investment, Namco Europe will be approaching EAG International with a staggering 29 products, eight of which will be having their European debuts. John Brennan continues: "We will be showing our largest ever range of products at the show.  This year everything seems to have gone up a peg. Our customers come to us for something innovative and different and we always try to exceed expectations; our development teams have really risen to the challenge. This progress has been reflected in every aspect of our brand, including merchandising and plush, to support operator requirement for prize games and to support our fast emerging Pac-Man range," revealed John.
Namco Europe follows the mantra 'Dreams-Fun-Inspiration' and the products to be shown at EAG International are testament to the company's determination to light up the play environment and deliver experiences that just can't be replicated at home.
Enjoying its European debut will be Namco's Mach Storm, a jet fighter simulator type game; five different flight missions defending highly detailed real world cities from within the immersive domed screen game offers players an experience only aces of the sky can dream of!  The unique dome screen covering all areas of peripheral vision provides a first in the amusement arena.
Namco's Dead Heat Riders, in which players race their motorcycles head-to head against ghost riders around the streets of London, New York, Chicago and San Francisco is released for 2014  and on impressive display at EAG.
A striking European debut awaits Super Alpine Racer, the new 55inch screen upgraded version of the popular Alpine Racer, offering fast moving downhill slalom action, an ideal fore-runner for those planning to hit the slopes immediately after the show.
Still on a fast action theme, Mario Kart Arcade is an arcade system release featuring the Mario and Pac-Man characters. The game has online connectivity with data being interpreted to fine-tune the offering, ensuring perfect suitability for the site.
A stunning European release is planned for Pac Man Swirl, a four player centre piece ball-drop game, following an extensive and successful UK site evaluation by Namco.
Operators seeking proven Theatre Cabinet 4D  high-earners, will not be disappointed by Dark Escape with its tailored frights and biofeedback.  Deadstorm Pirates 4D, one of the highest grossing Theatre Games ever, will also be back with new features
Stand 530 will also be featuring a number of exciting new products from the Raw Thrills stable, revealed John Brennan: "Raw Thrills have a tremendously dynamic team and their latest licensed releases are particularly outstanding.
"Batman™ is a combined shooting and driving experience with weapons being launched from a customised steering wheel. Players have a choice of ten Batmobiles and 36 missions. Also from Raw Thrills, Aliens is the company's first dedicated shooting game since Terminator: " in my view it must be the fastest action and fully interactive shooting game around," promised John.
The buoyant redemption sector will be well catered for, with Goal Line Rush, Triple Turn, and with another European debut for the ingenious Barrel of Monkeys, a simple and compelling  video redemption game based on a classic  'swinging monkey' theme.  The developing range of Pac-Man sports action games will be augmented with Pac-Man Smash Hockey and Pac-Man Basket being joined by Pac- Man Ghost Bowling and Pac-Man Swirl.
Namco Europe's long association with Jennison Entertainment Technologies will be celebrated with the European launch of Snow Down, an exciting two player game with players competing to collect the most snow in their cones in a blizzard. John Brennan commented: "We have high hopes for Snow Down. Jennison Entertainment Technologies is a fabulous company which always takes a slightly unusual approach to its games. We've had a relationship with Jennison since their very first game and every single release has been a success."
Whilst fielding a hugely impressive line-up of exciting and innovative games, John Brennan is in no doubt that the past and future success of Namco Europe will be in no small part due to the efforts of an outstanding team. "What differentiates Namco Europe is that, apart from a stunning product offering, our team have literally decades of experience and enjoy excellent long term relationships with our customers; to a certain extent we present a local face in a relatively small industry. We bring staff to the show, representing Sales, Sales Admin, Logistics and Customer Service. This illustrates our support to our customer base, expertise is immediately to hand and relationships with customers are strengthened at every level," explained John.
At almost 400 square metres the Namco Europe stand will be impossible to miss. Visitors who take the time to explore will be rewarded with an insight into the very latest games technology, as well as enjoying Namco Europe's legendary blend of expertise, friendliness and efficiency.
Register for EAG International 2014 at www. eagexpo.com