Submitted by

admin

on Thu, 30/05/2019 - 19:25
Las Vegas, Nev.--May 30th, 2019—Maverick Gaming (or Maverick") announced today that Thomas J. Granite has been named Chief Financial Officer, effective June 5th, 2019, subject to customary regulatory approvals.
Mr. Granite brings more than twenty years of gaming industry and investment banking experience to his new role at Maverick, most recently serving as Managing Director at Jefferies in its Real Estate, Gaming and Lodging Investment Banking group.  In this role, he worked with clients across the gaming industry, providing expertise to clients regarding mergers and acquisitions, high yield notes, leveraged loans, private and public equity.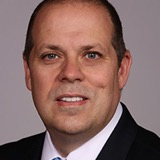 Mr. Granite began his banking career with companies such as JP Morgan Chase and Merrill Lynch where he served as Director of Gaming, Leisure, and Transportation Investment Banking before coming to Jefferies.  His broad based financial experience touches all regions of gaming globally.
At Maverick, Mr. Granite will be responsible for all of the Company's financial and treasury functions including financial reporting, banking relationships to support the Company's goals for growth, investor relations, and M&A activity.
Eric Persson, the majority owner of Maverick commented on Mr. Granite's hire, "We are counting on Tom to bring his proven financial expertise and extensive industry relationships to the CFO position. His background at Jefferies will undoubtedly assist Maverick as we continue to transform into a best in class regional operator."
Mr. Persson added, "Tom's hire once again demonstrates Maverick's ability to attract top talent from the gaming industry and the investment banking community.  Over the next few months we will be announcing several more acquisitions that will continue to define Maverick, and we are counting on Tom to help get us there." 
"I am excited to be a critical part of the Maverick executive team and believe it is a unique opportunity to create something special.  Maverick's same store EBITDA is up around 100% Year-Over-Year.  That coupled with their acquisition growth is very impressive to me," stated Mr. Granite.
 "I have a clear vision of Maverick's growth strategy as the consolidator of choice in the regional gaming sector and I look forward to the challenge of efficiently structuring, financing and integrating the portfolio of over 20 properties as Maverick continues to grow," Mr. Granite added.
ABOUT MAVERICK GAMING LLC
Maverick Gaming is majority owned and was founded by gaming industry veterans Eric Persson, who previously served as Global SR Vice President of Slots at Las Vegas Sands and Justin Beltram, former Vice President of Slots at Bellagio and Marina Bay Sands. Together they bring over 30 years of gaming experience spanning gaming markets around the world including the Las Vegas Strip (Venetian, Palazzo, Bellagio), Macau (Sands China Limited), Singapore (Marina Bay Sands), and many regional markets in North America.  Maverick Gaming currently owns the Wendover Nugget and Red Garter Hotel, has been approved by the Nevada Gaming Commission to purchase the Red Lion Casino, Gold Country Casino which is scheduled to close May 31st.  The Purchase includes 435 slot machines, 11 table games and 544 hotel rooms. Last September the company announced its intention to acquire Nevada Gold & Casinos, Inc. (NYSE: UWN). Upon closing Maverick will add nine casino locations, seven of which are in the greater Seattle vicinity, and the other two located in the eastern Tri-Cities area. The UWN facilities have approximately 120 table games. The transaction is pending the approval of the Washington State Gambling Commission. It is expected to close in June 2019.  In April of 2019, Maverick announced a purchase agreement with Great Canadian Gaming to buy their three casino assets in Washington State in the Seattle area.  The casinos have 45 table games.