Submitted by

admin

on Tue, 03/12/2013 - 12:40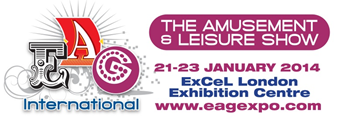 IOA Out in Force At EAG International January 21-23  2014
Being independent and not affiliated to any specific cause, party or group can have its advantages. The freedom to determine direction and realise profit potential by maybe taking risks or an entrepreneurial approach can be refreshing and envied by many operating under other constraints.
Indeed, it was many of these advantages which attracted a group of independent owner-managed pub and club machine operators to establish their own association in 1991. Twenty years later, the Group comprises 14 members, commanding an impressive share of the pub and club machine market.
The IOA (Independent Operators Association) was originally created as a purchasing group, keen to be autonomous and unrestrained in what it bought and who it bought from. However, following a request from a national pubco, it graduated into becoming a national supplier, evolving to become the respected Association recognised today.
Playing a key role in the industry's development throughout the past 20 years, and now responsible for 30% of the 28,000 machines operated by its members, the IOA remains a strong proponent of innovation and competition in order to ensure the most popular and best performing AWPs are produced.
It's this independence, according to Chief Executive Peter Weir, which is one of the key competitive advantages for the customers of IOA members, due to the fact the Association is not linked to any particular manufacturer. The IOA also prides itself on its ability to deliver national coverage, but with localised focus and expertise.
Conversely, it's this independence which means the IOA must constantly stay abreast of industry trends, technology and game development, meeting with manufacturers regularly and inputting into product development.
Describing EAG International as "a very productive three days", Peter and the Association in general have been key supporters of the event since its inception in 2010. The IOA uses the show as the venue for its Annual General Meeting, at which members will participate in elections and set out the agenda for the forthcoming year. 
Peter believes that this year there will be much to discuss: "The year has been challenging for our members and their customers, not least because of economic pressures and the reduction in spend of the leisure pound. Revenues from SWPs are in sharp decline and the much awaited Triennial brought no stake change for AWPs, so only time will tell if it has a positive impact," revealed Peter.
Commenting on EAG International's relevance as a product showcase, Peter was very positive: "EAG International presents a real challenge to other shows. AWPs are the most important products for our members and are always a strong feature of EAG International. We're also delighted to learn that product from new entrants to the market will feature in January.
"The show has evolved dramatically and is now also a great shop window for ancillary product from around Europe. We're experiencing a degree of product polarization driven by our sites, so this aspect is important," he confirmed
Keenly anticipating the opportunities presented by EAG International 2014, Peter added:
"The show represents a great place to network, meet people from abroad and generally keep up to speed with new ideas and innovations."
For registration, exhibitor details and information on travel and accommodation visit www.eagexpo.com