Submitted by

admin

on Tue, 12/11/2019 - 22:57
The number of people set to experience ICE London 2020, the world's biggest gaming technology event, is set to grow exponentially following Clarion Gaming's decision to co-host a $250,000 US prize money professional esports tournament that will be live broadcast to an online global audience in excess of 5million.
The ground-breaking initiative, which is being undertaken in partnership with GG.Bet. will comprise an 800sqm state-of-the-art Esports Arena featuring a custom built stage, an educational auditorium, commentator ICE box, partner data.bet lounge, a themed bar and a betting hatch allowing players to 'bet' ICE and GG.Bet dollars in order to simulate esports wagering.
Described by Clarion's recently appointed Head of esports, William Harding, as representing a 'global industry first', ICE London's Esports Arena will provide visitors with the practical tool kit and strategic insights to take full commercial advantage of what is one of the industry's fastest growing wagering sectors.  The live event, which will be streamed to esports fans worldwide, is only open to over 18-year-old, b2b delegates.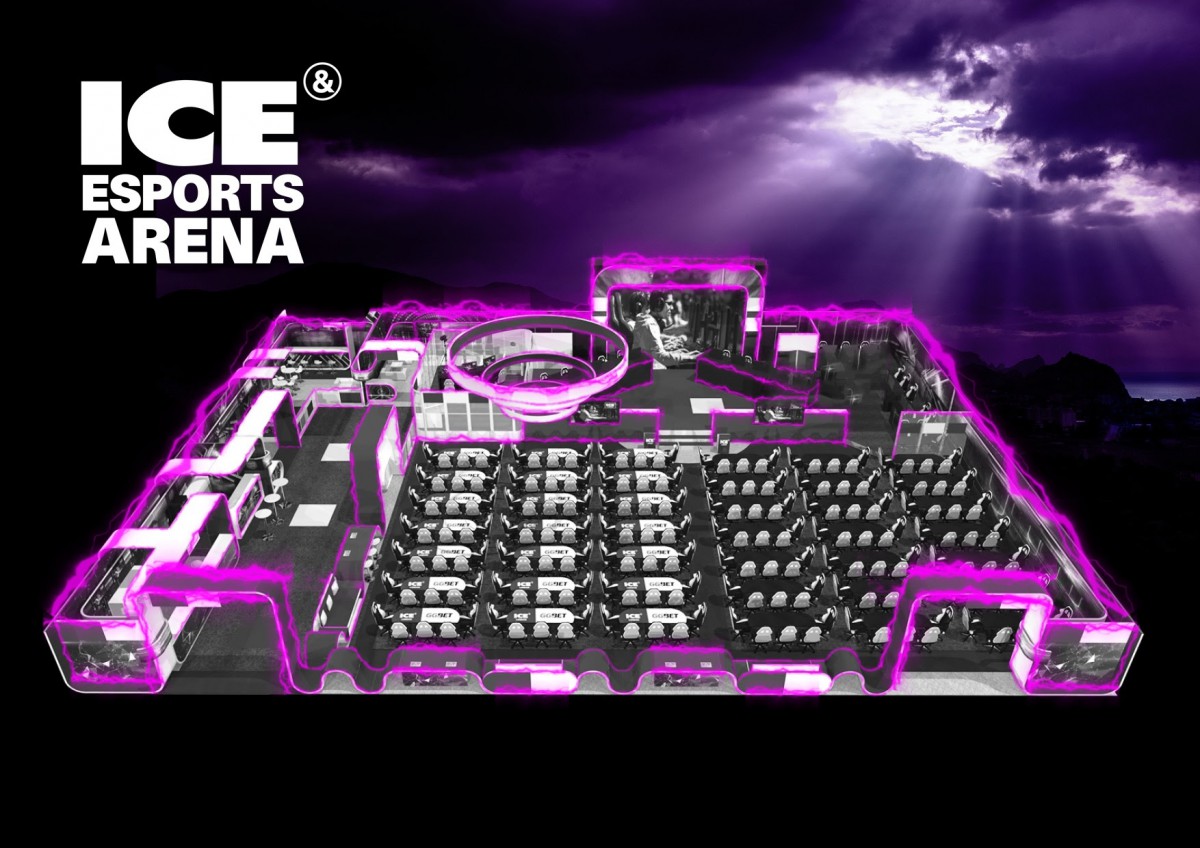 Image: A visual representation of ICE London's 'global industry first' Esports Arena
"Clarion Gaming's mandate is to provide platforms to inform the entire industry and I believe the addition of the Esports Arena fits into that model perfectly," explained Harding. "ICE London has a phenomenal reputation and is at the forefront of innovation not just across gaming but in the entire events industry and this new feature will truly allow visitors to 'Dive into the future'.
The Esports Arena will be the one-stop shop to learn and experience everything about esports and introduce a whole new world of bettors. Insight expert presentations will explain how to attract an audience that has perhaps previously been difficult to engage with.  There will also be 'how-to' guides focussing on generating revenue and maximising ROI.
 
"We want to give an authentic esports experience in ways which have never been seen before. We will have eight of the best Counter Strike teams in the world competing, playing real time games which will be streamed to real fans around the world, all of which will be live on the ICE London showfloor.  For land-based operators interested in how to produce a tournament, we will be effectively building an authentic eSport show live in front of them.
Highlighting the level of production necessary to deliver a tournament on this scale, the arena will allow delegates to go behind the scenes with our production team as well as providing player interviews throughout the competition, showcase broadcast editing insights and deliver tournament structure and data/ performance analysis. The educational auditorium will feature a full schedule of presentations on topics such as how to use esport data to create odds, esport recruiting and esport wagering.
 
Harding added: "With market reports showing registered esports wagering of $5.6bn in 2015 has grown to $13bn this year, it's going to be one of the must attend features at ICE London for operators and gaming brands alike. We aim to announce further developments to the Esports Arena in the coming months and through this unique event experience, provide the industry with a one-stop education space and deliver something far beyond anything else that's been done before in terms of esports education for the gaming sector.
 
To Step, Leap, Dive and Look 'Into The Future' alongside 600+ solutions experts and 35,000+ gaming professionals for three days of business development, learning and celebrating the international gaming community, visit icelondon.uk.com