Submitted by

admin

on Wed, 23/10/2013 - 21:43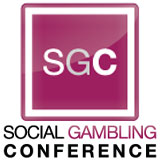 23rd October 2013 (London, UK) –iGaming Consultant Jason Prasad will be presenting his research on social to real-money gambling conversions at the Social Gambling Conference, taking place at Dexter House, London on the 6th-7th November 2013.
Prasad recently conducted an academic research study on evaluating the effect of perceived marketing communication programs on social gamblers online. The research study explored the extent to which conventional marketing communication programs, suitable for real money gamblers, influence social gamblers' buying behaviour online. Prasad will be presenting to delegates the results of his research in his session titled "Social Gaming: Will They Convert?" 
Prasad, who has over a decade of experience within the online gambling industry, will be joining an already rich and varied selection of key expert speakers including: Andy Rogers of MediaTech Solutions, Andrew Paradise of SKILLZ.com, Raf Keustermans of Plumbee, Simon Collins of Gaming Realms, Charles Cohen of Probability, Ohad Narkis of Williams Interactive and Vaughan Lewis of Morgan Stanley.
"We are delighted that Jason's research will be presented at the Social Gambling Conference," said Alex Pratt, Head of iGaming Business. "This conference is designed for people who want to understand social gaming and how to make it work for their business, and a lot of Jason's research is geared towards creating a working business model which will be a great benefit to our delegates."
The conference will provide an insight into where the leaders and innovators in the space are directing the industry. Sessions will cover the transition between social and real money gambling, the regulation of social games, monetisation and the opportunities in social gambling. Attendees can register at http://www.socialgamblingconference.com