Submitted by

admin

on Fri, 15/11/2013 - 16:27
Innovation, market awareness, in short creating new solutions to change the market perception of systems and indeed open this market up to brand new sectors – this sums up the corporate philosophy at DRGT.
Thanks to DRGT, systems are now customer-oriented, easy to use and understand. Operators can now simply communicate with their customers. Direct marketing is a key tool to understand players better and provide them with information that can been tailored to each and every player individually. The beauty is that this communication is portrayed directly on the slot screen – thanks to drScreen from DRGT.
Furthermore, DRGT can connect all slots – even the oldest, popular reel-based slots and update them to portray information using the win table screen. The DRGT technology is serverless – this drastically lowers the investment costs and keeps the running costs to a minimum as well as no expensive IT staff need to administer the DRGT systems.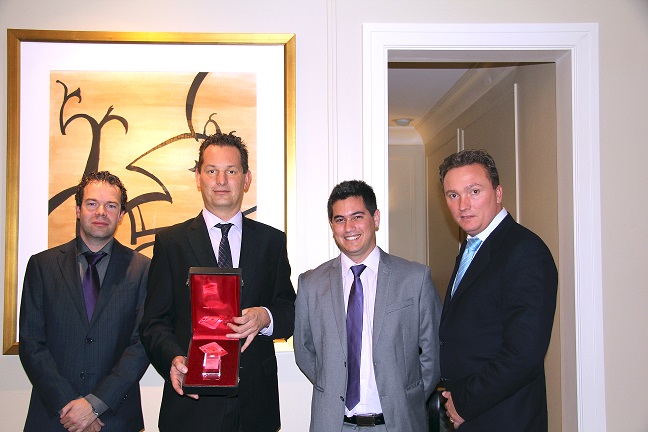 L2R Michiel van Dam, Jurgen De Munck, Alex Stiglich and Joost van Egeraat
The owners of DRGT – Jurgen De Munck and Michiel van Dam – lead the company management with a young, talented team with fundamental knowledge of the gaming industry.
The saying 'the proof is in the pudding' means that only results relate to success. The DRGT pudding continues to grow and 2013 was an exceptional year for the company. The rate of growth in Latin America in particular was worthy of a prestigious award – the 'AS de Oro' ('Golden Ace') for outstanding achievements during 2013 here by the most recognised gaming magazine for this continent – namely Casinos de Latinoamérica.  
Mr. Jurgen De Munck, CEO and co-founder of DRGT, accepted the award together with Michiel van Dam, Alex Stiglich and Joost van Egeraat (as portrayed on the commemorative photo). Mr. De Munck enthused, "This is the reward for our forward-thinking, market-changing strategy. We believe this is only the beginning and foresee an even quicker rate of growth in 2014 as we are providing operators with unique systems solutions. Now amusement machine operators are looking to us, so increasing the market potential for DRGT even more. We feel very proud and humble to have received the 'Golden Ace' award".