Submitted by

admin

on Fri, 06/12/2013 - 11:12
Detroit— MotorCity Casino will soon debut an innovative electronic bonus system that aims to make its gaming hall more interactive with customers as the industry faces heightened competition.
MotorCity's $1 million system, developed over the past year by an in-house team of software engineers and information technology specialists, includes flat-screen televisions above a majority of the casino's nearly 3,000 slot machines. The flat screens display personalized messages, betting and bonus amounts for slot machines, and inform gamers of substantial prizes won by other customers.
"The industry playbook is really shifting," said Alex Calderone, senior vice president at Fine Point Group, a Las Vegas-based gaming management and consulting firm.
"In the past, it's been all about capital projects that made the bricks and mortar nicer. MotorCity's focus here is on optimization of the gaming floor through data, in a 'Moneyball' type of way, to drive revenue," he said, referencing the 2011 movie about the Oakland Athletics baseball team, whose executives used data and analytics to assemble a winning team.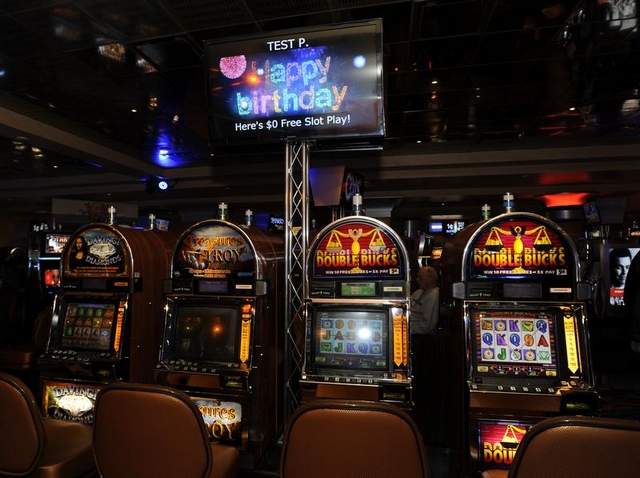 The MotorCity Casino in Detroit tests new monitors that display personalized messages, betting and bonus amounts for slot machines, and inform gamers of substantial prizes won by other customers. (Photos by David Coates / The Detroit News)
Revenues at Detroit casinos — which also include Greektown Casino and MGM Grand Detroit — have fallen this year, though the drop has been minimal at MotorCity. New competition from Ohio casinos are blamed for the decline in dollars spent at local gaming halls.
Casinos are scrambling to find ways to lure back customers, most notably through promotions, giveaways and even bricks-and-mortar improvements. MotorCity has decided to take a more aggressive approach by revamping the game floor environment and providing real-time interaction with gamers.
Working in conjunction with dozens of data points that are tracked through a player's gamer card, the interactive bonus system can reward a customer with extra playing cash if he or she has gone a significant stretch without winning a game or if there is a special occasion, such as a birthday. The player is alerted via a flat-screen above his or her gaming machine.
Players are also notified on the flat-screen and by a series of flashing lights if another gamer on the same floor has won a significant prize.
John Policicchio, vice president of marketing at MotorCity, said the goal is to promote a greater level of interactivity, especially among younger customers who grew up playing video games and are used to the "second screen" phenomenon. Second screen is when someone uses an additional electronic device while viewing a program or playing a game on another platform.
The original idea was to integrate the interactive system within existing slot machines but because of highly controlled patents held by slot machine manufacturers, there were few outside avenues for MotorCity to explore.
"We believe the future of the brick and mortar gaming experience is tied to interactive technology like what we've built with the bonus engine," said Dave Nehra, MotorCity's chief information officer and vice president of information technology.
From The Detroit News: http://www.detroitnews.com/article/20131205/BIZ/312050043#ixzz2mgT7xXEj