Submitted by

admin

on Wed, 13/11/2013 - 16:37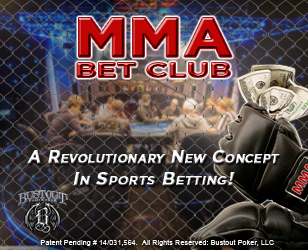 November 13, 2013 (Columbia, South Carolina) - Founder of Bustout Poker Apparel Jeff Griffith has announced plans to roll out his newest invention to online poker and gaming operators worldwide.
The unique game, which is named MMA Bet Club, combines a poker tournament structure with fantasy parlay card style betting on Mixed Martial Arts matches (or other sporting events). The product has an incredibly attractive selling point, aiming to limit exposure to potentially negative sports betting behaviour while – crucially – taking away none of the fun and enjoyment.
While the exact details of this new gaming invention are currently being reserved for the decision makers at the top of the online gaming food chain, there has already been quite a buzz amongst industry insiders concerning the potential of this novel idea. Griffith's product will almost certainly address a need that has long gone unfulfilled in consumers, and as such it is expected to incite a bidding frenzy among the top players in the game.
When asked about MMA Bet Club, Randy Kasper, founder of Poker Players International responded, "I see hundreds of business plans every year for poker-related ventures and there are only a handful which are truly unique and have limitless potential. Jeff Griffith certainly has one of those rare opportunities with MMA Bet Club."  
Poker entrepreneur Eric Morris, founder of Bluff Magazine added, "Poker and MMA have such a huge crossover market. The idea of combining the two in a sports betting platform makes perfect business sense! This innovative new fantasy sports game would make a great addition to any gaming site that wants to take full advantage of that crossover."
MMA Bet Club inventor Jeff Griffith is more than ready to finally be able to reveal his new betting platform to the online gaming world. "I first invented Bet Club back in July 2009, and it has evolved to what it is through four years of playing with only close and trusted friends. I honestly believe I have it tweaked to perfection and I'm excited and ready to show the world," said Griffith. 
After receiving its patent pending status this past September, MMA Bet Club is ready for the big reveal.  Griffith is extremely confident in both his creation and his presentation. "I poured my heart and soul into the launch presentation - it just had to be perfect!  I'm extremely proud of the end result and look forward to the industry feedback."