Submitted by

admin

on Mon, 16/12/2013 - 21:55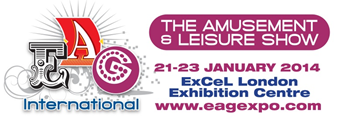 BAPTO Right On Cue For EAG International
On 21st January 2014 ExCel London will open its doors on the fifth EAG International as around 6,000 amusement and leisure industry professional congregate for the inaugural trade event of the new year. As EAG International has grown, so have the many reasons to visit the show.
For many of the industry's operators, EAG International is the event at which they review new products and place orders for the coming year. Several trade associations and other industry bodies will meet at the show to discuss new initiatives and to set agendas for the coming year. For many, the networking aspect of EAG International is as important as its role as a commercial facilitator.
For 2014, one trade association plans to stretch the boundaries, revealing that it will be introducing revolutionary new products to its members and other visitors.
The British Association of Pool Table Operators (BAPTO) was established in 1975 to promote the game of pool in pubs and to negotiate favourable trading terms for its members.  BAPTO's Bob Blakeborough confirmed that the savings achieved by most BAPTO members outweigh their cost of membership. BAPTO members benefit from advice on the introduction of new rules and have access to free promotion kits.
BAPTO has attended every EAG International since the show's launch and is keenly anticipating the forthcoming show.  Bob Blakeborough explains: "BACTA has always encouraged us to fly the flag and we appreciate the opportunity to engage with the industry at the show. We're looking forward to discussing the benefits that a well-run pool operation can bring to the pub environment and the business building assistance we offer to operators."
Pool is commonly recognised as one of the most profitable games in the coin-op repertoire and enjoys a wide appeal. Indeed, BAPTO's own research indicates that over 2,000,000 people in the UK are regular pool players, with 64% playing at least three times per week in their local pub or bar.
Yet despite the UK being the world's second largest pool market, the game has certainly suffered in recent years, primarily due to pub closures. Bob Blakeborough is very clear about the reasons: "In addition to pub closures, the trend toward food-led operations and the smoking ban have hit the game hard. Our members' tables suffered a 30% revenue decline after the introduction of the smoking ban alone," revealed Bob.
"We believe that promotions will drive revenues, especially where licensees are engaged. In addition to delivering valuable incremental revenues, pool can increase both footfall and dwell time, translating to increased bar takings. It's important to keep pool affordable and variable pricing models have really helped with this in some pubs," he confirmed.
BAPTO has an impressive library of statistical research on the pool market and is happy to share this data. The Association's approach, however, is far from academic. Each year BAPTO organises a three day tournament aimed at pub teams. Categories  include a five player team trophy, men's singles, ladies singles and mixed doubles with a total prize pot of around £11,000.
Bob Blakeborough elaborates, "The Annual Tournament is a crucial part of our promotional strategy, giving bread and butter players the opportunity of playing in a meaningful competition.
"Pool is a game which is promotion driven.  There is good media coverage of local leagues but it would be great to achieve a national sponsorship," said Bob.
With regard to the new products to be revealed at EAG International, BAPTO will keep us guessing right up to the last minute. "I can reveal that one of the products is a unique new cue, specifically designed as an aid to new players. We will also be showing an entirely new cue game, played on a compact bar billiards style table. The show actually represents a great opportunity for small inventors to engage with the market," added Bob.
The BAPTO stand (651) will be manned by Bob and the Association's Ken Hussey throughout the show. All existing and prospective members are invited to a drinks reception on the stand at 14.00 hrs. on the second day of the show.
Register for EAG International at www.eagexpo.com