With the latest additions to its live casino roster, BetConstruct has crossed an immense territory spanning from 16th Century India to the very roots of European and North American gaming. The process resulted in the launch of Bet-on Teen Patti and Double Red Dog, two card classics from two distinct corners of the world, exclusively modernised for a digital live dealer space.
 
When it comes to developing fresh ideas, inspiration for BetConstruct doesn't stop at the borders of any one nation. With its ever expanding gaming empire, the company's innovators have always had a boundless curiosity about different cultures and traditions, learning from partners and sometimes delving back in time to find the stimulus for their latest project.
 
Most recently, this approach has resulted in two exciting new releases for the firm's rapidly growing live casino offer. The first, Bet- On Teen Patti, is a fresh, modern version of a poker-style card game that has long been a favourite of players on the Indian subcontinent, while the second, Red Dog, sees one of the oldest card games in the world brought into the live dealer space for the very first time.
 
"Diverse gaming cultures around the world are a huge source of inspiration for Bet- Construct," a spokesperson for the company's Live Casino team explained. "That's how we deliver a truly varied gaming experience which resonates with the preferences of international player audiences. Through the years this approach has put down deep roots in BetConstruct's philosophy and also proved to be effective in terms of player acquisition, since our choices and ideas have usually found favour with our partner operators."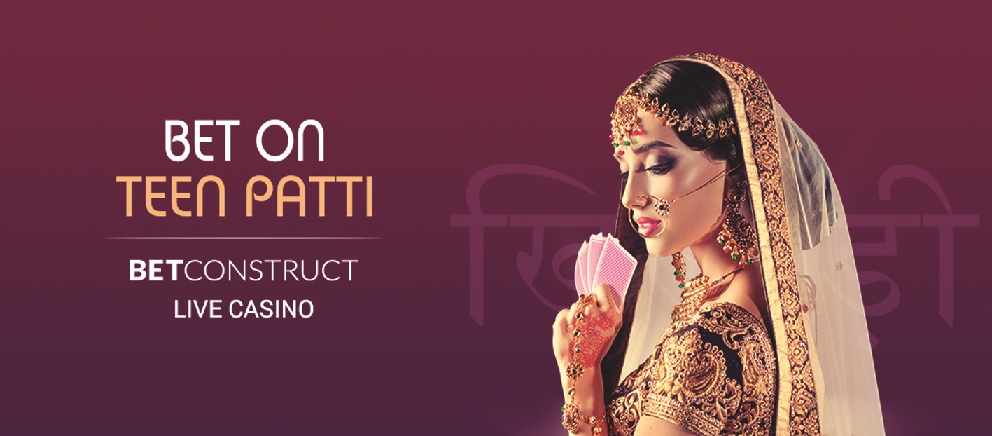 Alongside numerous innovations on the sportsbetting and data feed side of the business, BetConstruct has been focussing heavily on its Live Casino offer in recent years, with huge investment in new halls, high-quality dealers and R&D activity. With the launch of Bet on Teen Patti - a bet-on version of the popular Teen Patti, which is a simplified, three-card version of poker – the firm hopes it can reach out to both existing fans of the game and also create new ones from around the world.
 
"Live Casino is one of the fastest-growing products of ours, making it a perfect environment to introduce region specific games to," the spokesperson said. "That's exactly what happened with Teen Patti, an Indian game close to three-card brag which originated around 16th century.
 
"We do expect a widespread appeal - and our expectations are gradually being fulfilled. Even though Teen Patti is highly popular in South Asia, we have witnessed an increased demand for the game during ICE 2019 which, as we all know, gathers iGaming enthusiasts from any corner of the world. "This gives operators two ways to approach the game: the first is that they know their audience knows Teen Patti and would love to play it; the second is that they want a one-of-a-kind unique offering to freshen up their live casino, a live dealer that could easily become a player favourite game, regardless of its origin." When it came to Red Dog, a popular version of 'Inbetween' that has crossed continents and persisted through the centuries, the developmental challenges were even greater than Teen Patti.
 

"Historically, Red Dog originated from north-western Europe and made its way to North America later – and while the rules and concept of the games are simple, Bet- Construct faced the challenge of adapting the game to live casino environment," the spokesperson said.
 
"To take a deeper dive into the game, coding routine and its development, our Live Casino team followed the practice called hackathon. Spirits up, software developers, designers and team leaders left the bustling office for a couple of days and stayed at a countryside resort to focus specifically on the development of Red Dog while the rest of the team managed physical attributes of the game for BetConstruct's in-house live studio."
 
Originally, Red Dog was a head-to-head game of chance in which two cards are dealt face-up and players bet on whether the third card drawn will rank between the first two cards. At its hackathon-style getaway, BetConstruct's team decided to preserve the basics but modify the game for an online audience by lodging a multiplayer mode and involving a dealer in the game.
"To calibrate the session period of the game, we entered the "double" notion to our Red Dog making it possible for the player to bet on two boxes simultaneously and place poker-like side bets," the spokesperson added. "So, there we have it: Double Red Dog is live and ready to help double operators' profits. Currently, Bet- Construct is the only provider who offers online Red Dog with a live dealer."
 
Bet-on Teen Patti and Double Red Dog are now available to BetConstruct partners in a number of jurisdictions, promising to add a distinctive touch to any roster of casino classics. Meanwhile, at BetConstruct's headquarters, the tireless work on Live Casino will continue, with a number of new releases and technical improvements scheduled over the coming months.
 
"We have more games planned for launch, and all of them, just like any existing offer of our Live Casino, will be accompanied with a staple diet of tournaments and jackpots, all covered by Bet- Construct," the spokesperson explained. "We are going to open two more halls with new designs and new atmosphere, featuring tried-and-tested games alongside our latest releases and products for specific markets.
 
"Sticking with our unique approach, there's still so much more we can do."