Guaranteed Gaming Entertainment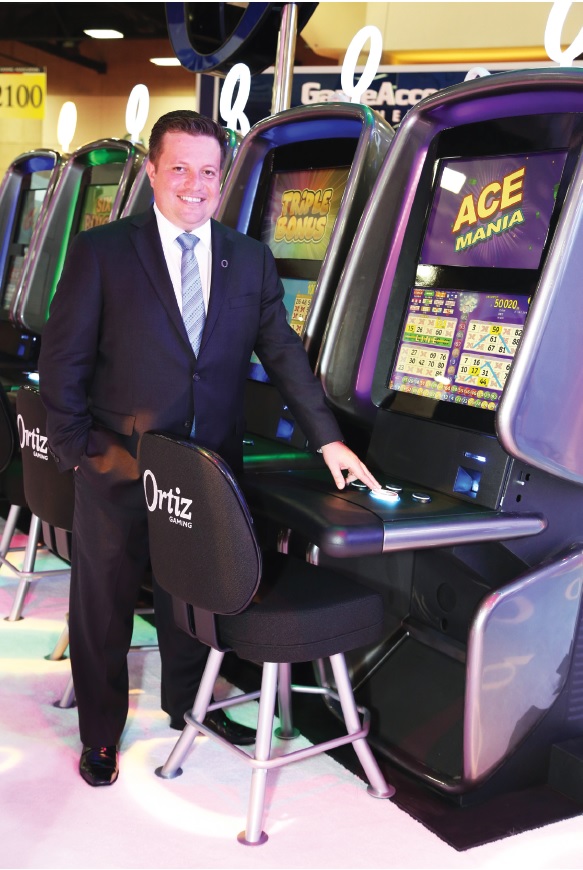 Could we commence this interview with a brief history of Ortiz Gaming; how it came to be founded, to the present day, multinational corporation with offices and customers World Wide?
Our history has always been about providing entertainment and happiness to people through our products and to add to the business growth of our clients. This core philosophy for the past 20 years has been the guiding principle of our growth. In 2002, Mr. Ortiz decided to expand to Central America; today the company has operations around the world. By 2003, Ortiz Gaming began operations in Scandinavia and, two years later, in Spain. Again, this core philosophy and the demand it has driven our expansion now into the USA, Asia, and many new markets.
Could you provide our readers details along with an over view of the extensive product range of Ortiz Gaming?
We are constantly adding innovative products and services to our cabinets, games library and wide range of gaming offerings. Our core is Bingo and we remain the world innovators there; but this is not your grandmother's Bingo: this is 21st Century excitement surpassing slots, tables, and anything seen before. We remain the leading developers of Electronic Slot, Bingo, and Amusement with Prizes (AWP) gaming machines
What would you say are the main benefits that gaming operations get from partnering with Ortiz Gaming?
The main benefit of our games is the remarkable increase in operator revenue; and it is new revenue not cannibalized revenue. Our intense focus on the player experience is major step beyond simply providing games; for example, our new o-Circle cabinet is a complete immersive experience bringing the player into the game. This kind of innovation not only drastically increases "time-in-chair" but creates an entirely new way of thinking about the expectation of game revenue.
Does your approach to game development incorporate feedback from operators and their patrons?
Every aspect of our game, from sound to design to playability even down to the bonus ball feature, are meticulously focused on the partnership between Ortiz Gaming and our operator partners —together focusing on the patrons. We are 100% about feedback; down to a partnership between us.
Investment in technology and product development is critical to any organisation involved in this highly competitive market. What is Ortiz Gaming's policy on investment in innovation and product development?
Providing entertainment to patrons and business growth to our clients requires constant expansion through new technologies and methodologies. Our revolutionary cabinet line, our beyond-the-next-generation mobile devices, even our latest game platforms are the product of our constant investment in technologies and new ways of thinking about the floor.
What is one of the technology developments created at Ortiz Gaming in recent years that most impresses you?
There is no doubt that our O-circle cabinet and our O-Future cabinet are impressive beyond-cutting-edge innovations; everyone who sees them agrees. But the truly impressive development is the underlying "Ortiz Standard" that provides an entirely new level of expectations of superior floor performance. The standard of measuring how a game should perform has been radically altered by the superior performance multiples of Ortiz Games.
Ortiz Cash and Ortiz Net are both clever innovations developed in recent years. Can you provide to readers more detail on both of these gaming operation systems?
Ortiz Cash is our casino management system. It manages all communications to the slot machines and to cashier desks. Through Ortiz Cash, it is possible to control all financial inputs and outputs, perform the automatic closing of tills, define the roles of employees, and generate tokens and cards
to insert credits into machines, amongst other functions. With functions on par with that of a costly and clunky SAS system, Ortiz Cash provides state-of-the-art reporting, in an easy to use format at a fraction of the cost.
Ortiz Net is a complete online management solution, which controls the operations and allows access to collect information from machines through a secure website. Ortiz Net allows owners and operators to access their revenue billing online and in real time. Operators can easily access information about machine functions, understand better the client and your needs, the individuality of each product coin-in and revenue numbers per machine - accumulated or by periods: daily, weekly, monthly etc. Ortiz Net also allows for printing custom reports and graphics of the real time operational statistics. Ortiz Net ensures the collaboration and interactivity between departments, making management 100% efficient.
Ortiz Gaming has an impressive list of best sellers and new games for 2015. Are they all region specific and are there more on the way for G2E Las Vegas 2015?
Because of our intense focus on patrons' and operators' needs, we have never subscribed to the "one size fits all" strategies of trying to fit square pegs into round holes. Our offerings are very carefully tailored to the behaviour, demands, designs, and particularity of each region – and even sub-regions. Even in the USA, we cannot say that a patron in one state is the same as another state patron; operators are the first to tell you that and it is key to the Ortiz philosophy. You will see even more of this at G2E this year!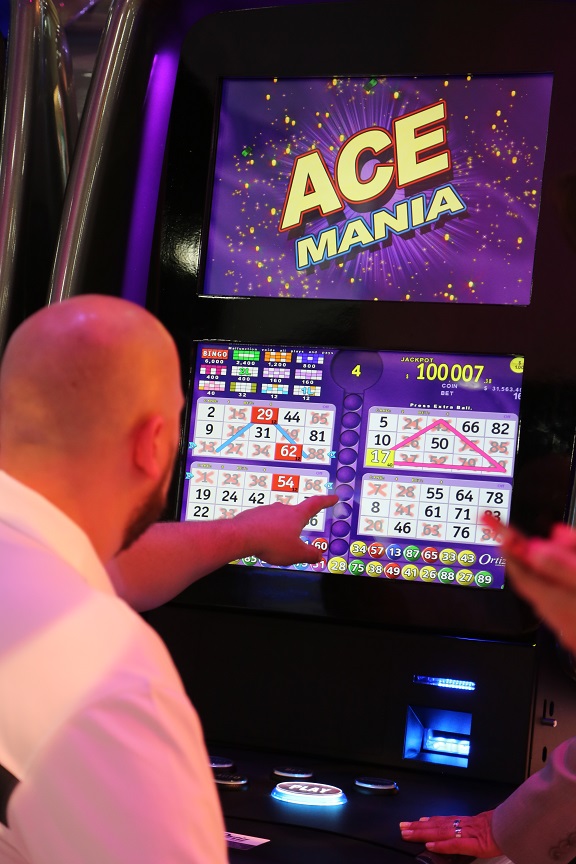 O Circle platform encompasses the OMS Communication system which displays winning information and videos. Can you provide details on this display system for those operators whom are considering upgrading their current systems?
The main purpose is display the jackpot performance amount per title. When a player wins the bonus, the video screen shows the draw and announces the winner and giving more visibility to our products
In which markets and geographic regions are you seeing most growth?
Word-of-mouth endorsements spread like a wildfire; and the more our games appear at top-tier casinos, the more demand there has been for The Ortiz Standard. Indian Country in the USA is more of a community than a geography; so a huge player-driven success in one state often triggers casino demand a dozen states away. The question about our growth has really been a question of "when can the Ortiz games be available at my casino?"
What was the reaction at G2E Las Vegas at the launch and since from visitors at shows since then such as NIGA to the new O Circle cabinets?
Again, the demand – not just for our innovative design but for the Ortiz Standard on the floor –has been remarkable. The more the word of our successes spreads, the more demand we hear from across the USA (and across the globe).
How was 2014 for Ortiz Gaming?
2014 Ortiz Gaming became one of the top gaming manufacturers in North America, and the most significant Bingo manufacturer in this market. This is a huge achievement in such a competitive market. Our goal is follow the same trajectory here in UK , with dedication and respect, like always
With the half way mark nearing for 2015 what have been the highlights for you so far this year and what excites you most about the second half of the year?
So far this year we have placed games at some of the most important casinos in the USA and won the support and backing of some of the industry's most renowned operators. These properties and leaders are true trend-setters in the industry and more and more eyes have focused on the Ortiz Standard as a result of these endorsements. The rest of 2015 not only holds continuation of this trend but our entry into some exciting new markets.