Glyn Thomas interview with Lawrence Levy, VP Global Sales, NOVOMATIC
Lawrence Levy knows the casino business from the bottom to the top. His distinguished career started as a croupier with London Clubs before taking to sea for a six-year voyage as casino manager for the Cunard cruise fleet, and then to Cannes, at the prestigious Carlton Casino Club. After serving contracts in Iguazu, Argentina and Mauritius, Levy joined the Hyatt Regency corporation, which saw him posted to Baku and Thessaloniki. Next was back to Argentina as director of Casino Buenos Aires, then more colorful adventures with Queenco, which dispatched him to casinos in Morocco and Uganda. From Africa it was on to Casinos Poland (gaming advisor to the board) and Thunderbird Casinos (operations director). Levy finally settled in one place for a while when he joined NOVOMATIC, which made him general manager of its Peruvian operations. From there it was not so much onward as definitely upward, as Levy became senior vice president for NOVOMATIC's Central and South American portfolio.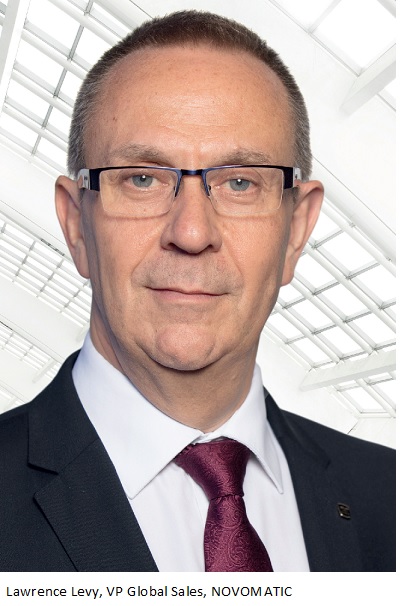 Then, in 2017, NOVOMATIC leadership made the operations veteran vice president of global sales. An operator overseeing sales? How would that work? Very well, apparently.
Now living in his 18th country, Levy is based at the company's global headquarters in Austria. Casino Life caught up with Levy in the midst of his travels (even in a senior office position he keeps on the move) to ask him how his first 15 months at the helm of sales have gone.
It's been just over a year since you took on the role of vice president of global sales. How has it been?
I can sum it up in three words: exciting, challenging, rewarding.
Globally, do you see greater turnover in sales worldwide in that year?
That's difficult for me to put a claim on right now. When I came in, it was really to understand the structure, to see if there were any potential changes that could improve sales worldwide. What NOVOMATIC does in Europe, it has been doing for a long time, and it has been doing so very well. While we continue to evolve in our key European markets, I also see growth opportunities outside of Europe, especially in the US, as well as in Latin America, Asia and Africa. We have already been working on games for the US casino market, which is a single-game market. We now understand a lot of that kind of product in terms of game and cabinet design, as well as mathematics, which is also very applicable in other markets such as Southeast Asia. So this is where we see the major future growth.
Is NOVOMATIC R&D all centered at your headquarters in Austria now or does it encompass Ainsworth and other offices around the world?
NOVOMATIC has 29 technology centers in 16 countries, mostly in Europe but we also have a dedicated studio in the US, in our Chicago office. And yes, we are working together with the  ideas, concepts and mathematics.
What are some of the unique distinguishing features of NOVOMATIC's impressive new cabinets PANTHERA™ 2.27 and PANTHERA™ Curve 1.43?
These two new cabinets have been developed for international casino markets and were presented for the first time at ICE this year. The PANTHERA™ 2.27 features a straightforward design, LED illumination and an elegant appearance, with two 27" monitors, a new and improved TouchDeck™ player interface and the option of an additional 24" topper for marketing or jackpot displays. The PANTHERA™ Curve 1.43 is a stylish cabinet that features a fully immersive design with a single 43" curve screen in 4K, as well as the new TouchDeck™ and optional topper. Both cabinets offer a variety of market-leading content, and the PANTHERA™ Curve 1.43 is our feature cabinet for the Enchanted Fortunes™ Linked Jackpot solution.
Could you elaborate on the popularity of the V.I.P. Lounge™ cabinet?
It's been extremely popular everywhere we've placed it. Judging by a lot of the operators that I've spoken to on my travels over the last 12 months, it's without a doubt been one of the top-performing cabinets for NOVOMATIC. The new, curved-screen version has been eagerly anticipated, and I predict this will be hugely successful as well. It's the comfort that it gives the players, it's the high-definition of the monitors and then, of course, it's the game content. All in all, the V.I.P. Lounge™ has been one of our best-sellers for the last 18 months.
What has been the reaction of visitors to your booth at exhibitions with regards to the new licensed slot "From Dusk Till Dawn™"?
Extremely enthusiastic. I was fortunate enough to participate in two focus groups in the US – players and operators – where we showed this game. In both groups, the participants said it's amazing what NOVOMATIC has done. We've taken a theme and run with it, and created something really exciting. This is the first time we've ventured into a themed, licensed game for international markets and feedback so far is that we should carry on doing it. From Dusk Till Dawn™ is a compelling theme, and features an outstanding line up of actors. While keeping the essence of a NOVOMATIC game intact, it has a lot of bonus features, incredible visuals, incredible sounds – so it's been very, very positive.
Can you provide our readers an insight into the myACP casino management system as well as why it's so popular among casino owners worldwide?
The Octavian myACP casino management system is a modular and scalable solution that monitors all casino floor activity, covering tables, the cage, registration, player tracking and more, providing extensive marketing capabilities and intelligent reporting. It's a very well-designed and robust system that also works with local and wide area progressives as well as mystery jackpots. It comes out of our technology center in St. Petersburg, and we also have R&D system support from our offices in Argentina. It's very successful – myACP is now connected to 20,500 machines worldwide and we expect to hit the 30,000-machine mark in the next 18 months.
Central and South America are important markets for NOVOMATIC, particularly with countries like Peru which is a region you are already familiar with from your previous employment, which must be an advantage for you with this region.
Yes, very much. I was senior vice president for Central and South America for NOVOMATIC for about eight years, based in Peru, so I looked after all the countries from Mexico and below, which included sales, operations, development projects – it was a little bit of everything, depending on the opportunities. In general, Central and South America is a very important market for NOVOMATIC. We're now looking with our R&D teams and our Latin American managing directors at putting together some specific Latin American initiatives that will be tailored exactly for those markets.
What processes are implemented to ensure that high level of quality control and rigid testing is maintained?
I've been extremely fortunate to see all of the stages that the R&D teams go through, and the structure behind it. There's a very rigorous testing procedure that comes after that, both software and hardware. We work very closely with gaming labs such as GLI, BMM, SIQ. It's a critical part of any slot manufacturer's life – and we take it very seriously. Our after-sales services ask for as much feedback as we can get to make sure we're working with the best configurations for their particular markets. It's a never-ending process.
What do you see as the future growth drivers for your organization?
Concerning global sales, and outside of our continued developments for the European markets, we are concentrating on product areas such as progressive content, linked content and electronic table games. With ETGs, our solutions feature live wheels, automatic wheels, virtual content, and we are moving a lot of new development into these areas including a selection of side bets. There are big opportunities for these products in the US, in Asia as well. Also in the area of video bingo – we purchased the majority share in Otium two years ago. We now have GLI certification for our video bingo products and the cabinets are TITO-ready, which opens development opportunities for us in Southeast Asia, as well as Europe and South America. In general, the additional markets outside our home European base are great development opportunities that have our attention.
What exhibitions are you planning to exhibit at for the remainder of this year where readers can visit NOVOMATIC and Ainsworth booths and see the latest game cabinets and associated products?
We've just completed the NIGA tribal gaming show in Las Vegas, where we showcased a wide range of products, including the new PANTHERA™ 2.27, PANTHERA™ Curve 1.43 and V.I.P. Lounge™ Curve 1.43 cabinets described above. We also presented From Dusk Till Dawn™ and unveiled our next licensed theme for international markets – MacGyver™, based on the iconic TV show. We'll be taking these cabinets, connected to our new linked progressive Enchanted Fortunes™ Linked Jackpot, to G2E Asia next month on a combined NOVOMATIC and Ainsworth stand. We also share a space at Juegos Miami at the end of May. For the rest of the year, we will have standout displays at all major exhibitions including the Peru Gaming Show, SAGSE Buenos Aires and, of course, G2E in Las Vegas.
Finally, Lawrence, have you anything you'd like to add?
In general, it was an interesting and forward-thinking move for NOVOMATIC to put somebody with an operational background in charge of global sales – and I think it's been a good move. When I'm travelling, the conversations I have with operators, slot managers and casino directors are probably on a different level than somebody that's just got a sales background. That seems to create a specific connection of trust. To me, that's very positive and I'm very happy to be a part of it.