Paul Edwards Director of Operations 'Casino Sochi' chats to Peter White
Sochi Casino's story is one of success despite the odds. Russian casinos began to flourish in the nineties but as the millennium kicked in they became prolific. As of 2002, Russia was host to 58 casinos (30 in Moscow alone), 2,000 gambling parlors and as many as 70,000 slot machines that were loosely regulated and beginning to cause social problems. The Russian government, led by Vladimir Putin, identified this and acted decisively.
Solution? Close it down and move it out of the populated areas. On June 30, 2009, almost all of Russia's casino industry went dark. (This seems to have been a recurring Russian situation: The Soviets outlawed all gambling except lotteries in 1928 also.)
But there was hope. The solution was to allow Casinos to operate in four remote zones: Altai, Kaliningrad, Azov City and Primorye (Vladivostok). Originally licensed for 10 years, they were all extended with the exception of Azov that was moved to Krasnaya Polyana (Sochi). If this constriction of gambling seemed like a deterrent to investors, that has not been the case. Lawrence Ho made a beeline for Vladivostok. Caesars Entertainment kicked the tires on Azov City quite seriously before punting. Doom-and-gloom predictions made at the time of the ban (such as that the casino industry was being set up for failure) have not been fulfilled. In line with Mr. Putin's policy of stimulating economic growth in newly developing regions with gaming, the Crimea has been ear marked as the next zone of casino expansion.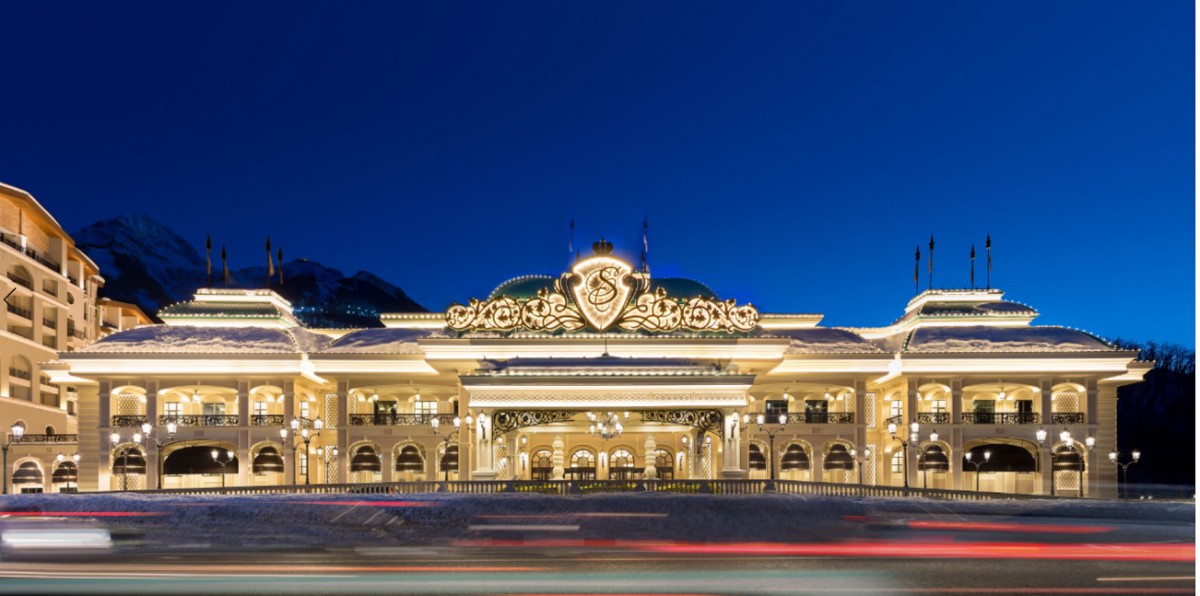 Casino Sochi is one of the success stories. Founded in the city that was put on the map with the 2014 Winter Olympics, at 33,000m2 it is perhaps small by American standards but able to comfortably accommodate 2500 players at any one time. It has 569 slot machines, up to 140 gaming tables – Blackjack, Roulette, Baccarat, Russian, Texas Hold'em & Stud Poker, among other amenities. It even has a dress code, something you'd never find in Las Vegas or Atlantic City. Its external appearance is elegant and designed to complement the surrounding alpine resort Director of Operations Paul Edwards, like many top managers today in operations started from the ground up – originally taking a blackjack course, and accumulating experience from the many casinos and countries he worked in. With 22 years of experience in Russia, Casino Sochi lured him away from Lawrence Ho's Tigre de Cristal in Vladivostok to direct operations for this showpiece Casino in the newly formed gaming zone. In this conversation with Casino Life, Edwards discusses the attraction to Sochi, the Krasnaya Polyana gaming zone, the effect of the World Cup on the city, the importance of poker—another stark difference from the U.S.—and the future of the junket business, among other topics.
Krasnaya Polyana Gaming Zone represents one of the newest stages in Russia's zonal casino development. How is the Resort performing since its opening 3 years ago?
The city of Sochi changed significantly with the 2014 Winter Olympics and created an ideal location for the new gaming zone. We have capitalized on that and implemented an ambitious expansion policy that has focused on the Casino and entertainment offerings to make Krasnaya Polyana a year round destination for Russians and foreigners alike. Currently our portfolio consists of Casino Sochi, the flagship, attached to the 5 star Marriott Hotel with up to 140 tables and 569 slots. Boomerang Casino located in the adjacent resort Rosa Khutor with a 'Hard Rock' theme and catering to the fun Casino gamblers with 20 tables and 225 slots. Our 'Bonus' slots hall has just doubled in size to 178 machines and caters to the casual walk in guests.
The business has seen solid year on year growth and gains in international recognition through our active Junket program – after 35 months of operations we have surpassed 1.6 million visits by guests from 149 different countries – and are now well established as the leading Gaming Zone in Russia.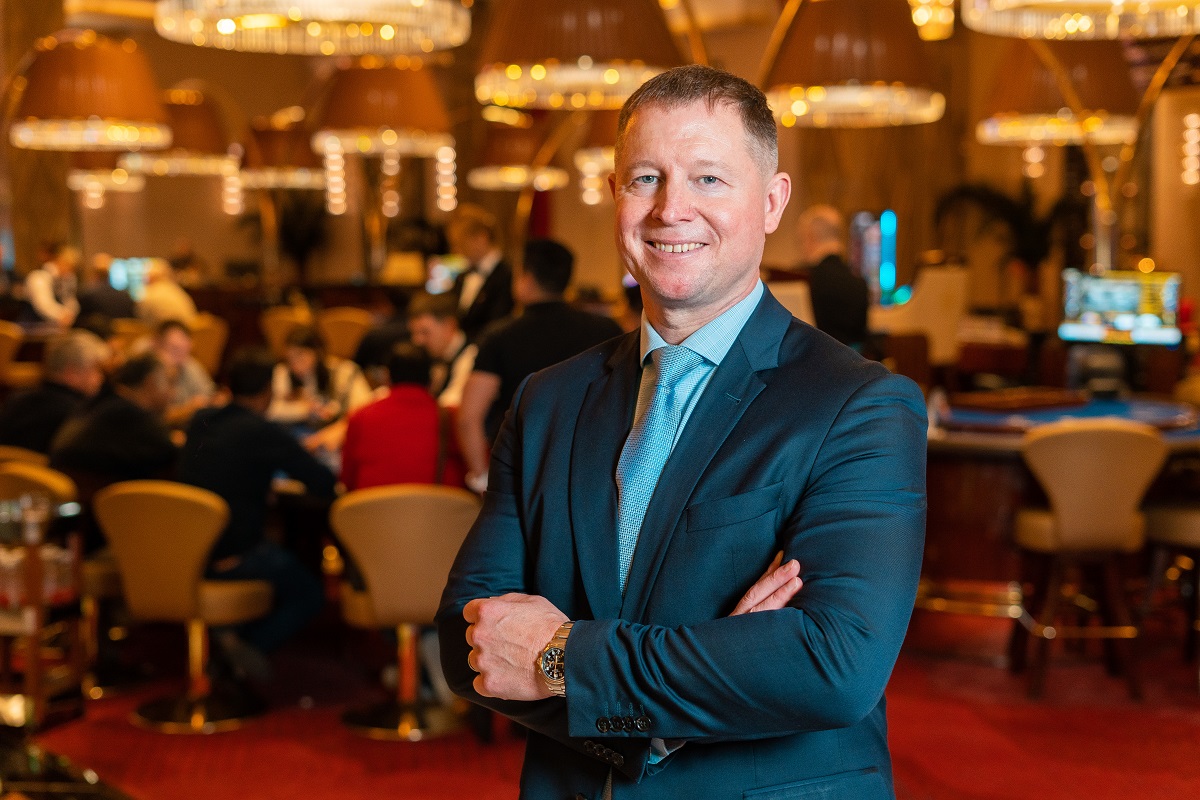 Image: Paul Edwards Director of Operations 'Casino Sochi'
What led you to get into casinos & gaming?
Well it all started in Perth at Burswood Casino (now Crown) with a Blackjack course back in '86 to get me through University, and I was captivated by the business with its dynamics of mathematics & hospitality and that passion is still going strong.
Where has your path taken you, and what led you to Krasnaya Polyana Gaming Zone?
After working in Casinos in Australia and South Africa I took a path less travelled in those days to Poland and then on to Russia where my 6-month contract in '93 turned out to be the beginning of something big. The nineties were the heyday of the Casino business in Russia and the competition was fierce, so you only survived with impeccable service and competitive loyalty programs – and of course out of this Russian Poker was created. After spending four years in Moscow at the Casino Royale, I was General Manager of the Taleon Casino in St. Petersburg for the next fifteen. It was quite a disappointment when the Casino's were closed down in 2009, but 6 years later I was back for the opening of Tigre De Crystal in Vladivostok in Russia's far east. When the opportunity to be part of the Opening Team for Casino Sochi came up, there was no hesitation. In Russia there are four gaming zones (with a fifth opening in Crimea shortly), but none of them come close to having the infrastructure and potential to attract Russian and International customers like Soch
What is life like in Sochi?
Sochi is an amazing location with both the sea and the mountains - it is absolutely pristine with an incredibly mild climate and definitely the best lifestyle of all the Russian cities that I have lived. The Casino is located in the mountains about a 30 min drive from the sea, and the Krasnaya Polyana Gaming Zone consists of several resorts that were built 5 years ago for the winter Olympics so everything is state-of-the-art with all the modern amenities – water-parks, cinema's, spa-centers, shopping malls and of course a huge variety of incredible ski slopes.
Is the Resort Seasonal popular for example in Winter during the Ski Season then in the Summer for the hot weather and sea along with events such as Formula 1 Grand Prix?
Before the creation of the gaming zone the Krasnaya Polyana resorts were only utilized effectively during the winter season with a large number of skiers and snowboarders flying in from Russia and all corners of the globe. Of course, speaking of Sochi as a whole, the flow of tourists is traditionally a summer destination and also depends on international events such as Formula 1, the World Cup and various international forums and concerts. All of these events have proven to add value to the offerings and promote Sochi internationally.
What is the variety of Restaurants food and style at the Resort?
In a business where there is no tangible long term return on 'investment' for the customers we have focused on ensuring that the experience they have on property exceeds their expectations, and as we can't guarantee a win, we can certainly ensure a culinary delight second to none. 'Brunello' restaurant rises to this challenge, offering unique, tantalizing dishes from our renowned Russian celebrity brand Chef Ilya Zakharov that epitomizes 'fine dining'.
The "Buffet Restaurant" provides a wide selection of Russian, European and Pan-Asian cuisine (Chinese & Indian), we also have a family restaurant The Bazar, which specializes in traditional Caucasian dishes such as khinkali, khachapuri and open grilled specialties, as well as signature salads from a variety of local herbs, seasonal fruits and vegetables.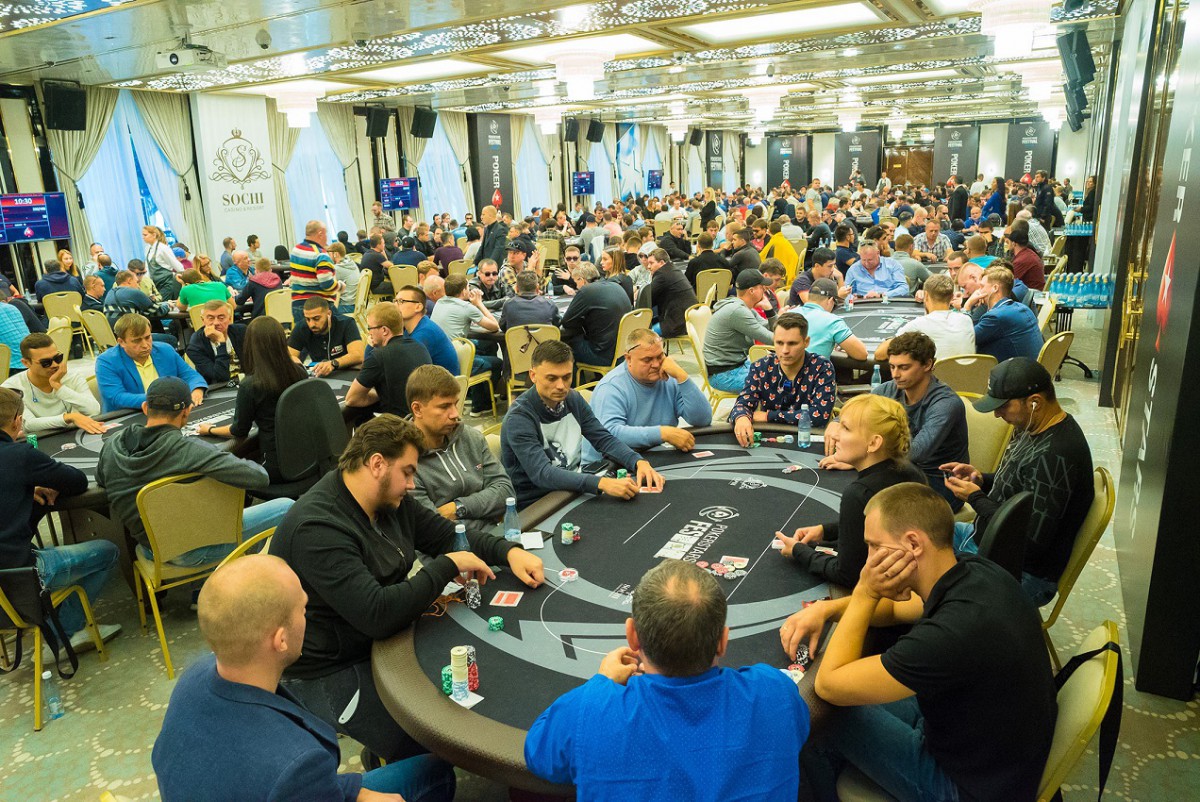 The World Cup was a great success and provided the world with the opportunity to see Russia in a new light. Did this have a positive impact on the Gaming Zone?
The event itself enabled us to attract customers from as far away as China and Brazil, but more importantly the organization was outstanding, security was friendly and the atmosphere was electric. It was immediately evident that the 3 month 'fan pass' which gave foreigners an automatic visa when they purchased a ticket, not only boosted tourism during the event but generated repeat business for the Casino. As a result of this there is a plan to move towards electronic visas for Sochi by the end of 2020.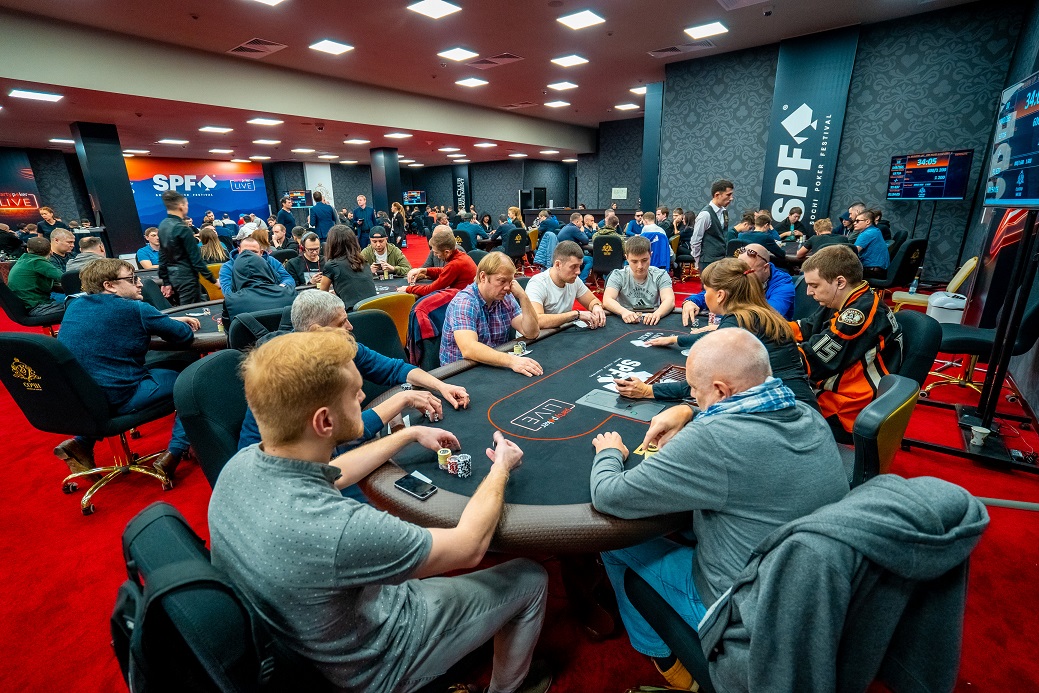 You have achieved some outstanding success in attracting the world's top Poker tournaments, was this part of your overall strategy, and how did you accomplish it?
Poker was essential to attract a large base of players all year round and develop an additional revenue stream and marketing platform. As the Russian online marketing was restricted it meant that there was an opportunity to create a synergy with online Poker platforms by offering Live Poker Tournaments that proved valuable for both organizations - to this end we created a partnership that promoted events with the world's top Online Poker Sites and Players.
After three years of operation, Sochi Poker Club is now well established on the world poker circuit having held over 30 major international poker tournaments with a total guarantee prize pools of over 39 million euros. There is a major tournament held every month in conjunction with the top poker brands PokerStars, Partypoker, 888poker and Pokerdom, and all the major tournaments Millions, WPT, WSOP, EAPT, EPT and of course our own Sochi Poker Festival (SPF). The record prize pool for a Tournament was the Millions that amounted to just over 9,000,000 euros. World poker celebrities have also visited Casino Sochi including: Phil Ivey, Paul Foix, Bertrand Grospellier, Mike Sexton, Michael Mizrahi, Leon Zuckernik, Rob Young, Chris Moneymaker, Fatima Moreiro de Melo and many others. The face of the Sochi poker club this year was the famous Russian comedian, showman and TV presenter Garik Kharlamov.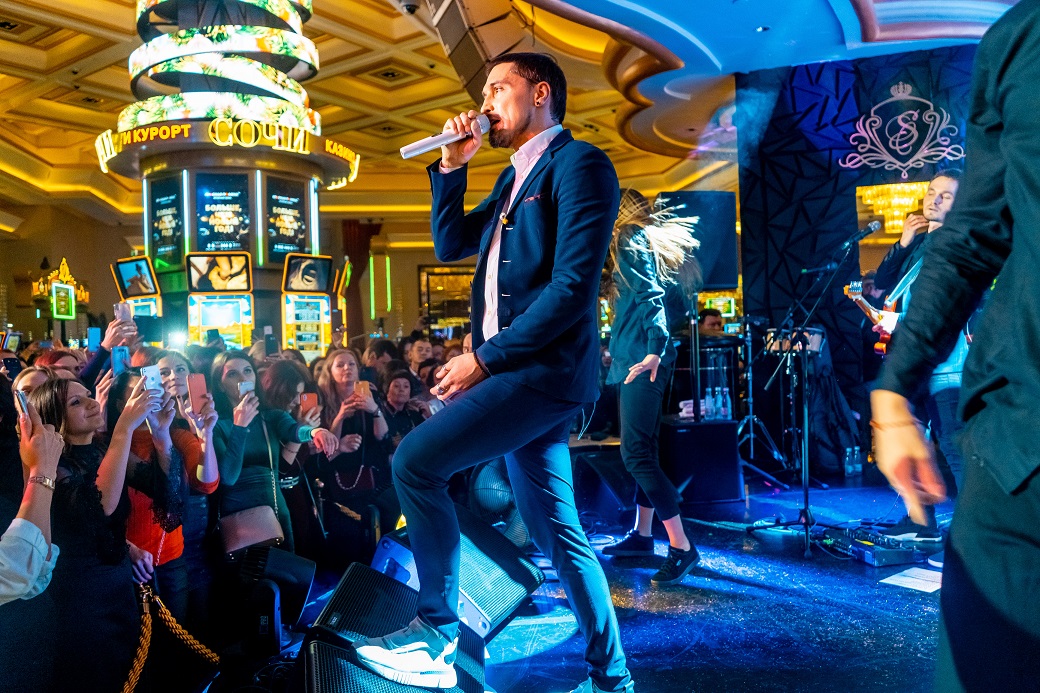 You mentioned creating an active Junket program, could you elaborate on that and the effect it has had on business?
Being in a location with 52 countries within a 4-hour flight radius, our priority was to create a competitive junket program and establish Sochi as a destination of choice for our international guests.
Direct flights were a big factor, if you are trying to plan a trip; nobody wants to take a 12-hour flight when it is literally just three or four hours away from where you are living. To this end we initiated flights from Tel Aviv – Sochi last year, that started off with two flights a week and built up to 15 flights a week this summer! The latest route that we opened is Dubai – Sochi in July, with Delhi – Sochi & Shenzhen – Sochi starting at the beginning of 2020. This has had a positive influence on promoting Sochi – in August this year on average 28,400 people a day were flying through Sochi airport, compared to 2014, which saw 23,000 people a day during the Olympics.
The Junket business has grown exponentially and we have active Agents and Players on a regular basis mainly from Israel, India & China.
How is your rewards program structured, and what are the key points in your opinion?
The Krasnaya Polyana Gaming Zone has an extensive multi layered rewards program that extends seamlessly to all of our properties. The key is 'cashless', and once the player has funds on their card they can use it extensively throughout the properties for slots, tables and F & B - the whole time generating more points anywhere they use it. The players accumulate points on turnover and the lower tier levels have additional built in 'trip points' that can be used to purchase flights and/or accommodation, and participate in lotteries & internal promotions based on their gaming activity. Diamond & Premier cardholders enjoy an extensive range of personalized services and maximum privileges also based on their turnover.
What have been the best performing slot machines and EGMs at the Casino?
We have a wide range of machines from various manufacturers and traditionally Novomatic were very dominant in Russia, however, there is a lot of competition and the gap is narrowing. Our brands include such companies as the Austrian company Austrian Gaming Industries, Euro Games Technology from Bulgaria, International Games Technology - an American company that merged not so long ago with the German company Atronic, Scientific Games from the USA and the Russian manufacturer Igrosoft. Our Casinos are also connected with a wide area network 'Mega Jackpot'.
What does the Casino Sochi hold for those that have missed out the last 10 years?
One of the greatest accomplishments was to change the attitude of Russian customers to the Casino business following a lot of negative press leading up to the creation of the gaming zones – it is not Russian roulette – it's entertainment! Everything from the sophisticated light interior & welcoming staff to the concerts, shows and tournaments is dedicated to make the Casino a great night out.
So for those that have missed out on the last 10 years, a truly integrated international resort in a magnificent location is waiting to be discovered!
Casino Life Magazine would like to thank Paul Edwards and the team at Krasnaya Polyana Gaming Zone for their time and cooperation with this article.
This feature was originall published in Casino Life Magazine's December 2019 Issue 135