Glyn Thomas talks with Ian Hogg Chairman of Shopworks the software provider offering tailored solutions to help casinos save money – and make money
Most of us have heard of the Cloud – that amorphous place in the ether that holds all of our music photos and social media chit chat. Shopworks, established in 2009, have carved themselves a very pretty niche in the gaming industry by offering modules on the Cloud that allow staff to check-in to manage their hours and for casino managers to check rosters, budgets and more
Ian, can you tell us a little more about the company?
Shopworks was formed in 2009 and provides customers with cloud-based workforce management software. We build scheduling software that helps businesses run more efficiently and which supports, trains and motivates their staff. Our clients include Rank Group, Paddy Power, Sportech, Praesepe and Talarius.
Can you explain what you offer in layman's terms?
Sure, there are two basic ways of explaining what we do – the first is a workforce management system providing staff with an online rostering system – so they can see in advance when they are scheduled to work, can check their hours and in some cases even make changes to their future shift. The other side of the coin is a Casino module that turns that data into an online budget monitoring system. Simply put, casino managers can see the effect of their staff decisions on budgets.
So staff can access their rosters online and check when they worked and are due to work?
Yes, in essence they can be aware of their commitments at all time and can be certain of the hours they have put in – so there are no problems over payment. They log on – they log off – they get paid. And, because it's all cloud-based this information is available over a wide range of platforms 24/7.
How do staff view the system? Was there any suspicion?
Not once they had tried it out – it's very easy to use and makes everyone's lives simpler. You know what you are owed and can plan your hours ahead. It's a great way of banishing the scribbled plan on the noticeboard we are all familiar with!
The casinos also avoid the issues that come about with traditional paper methods – notably double payment, paying different staff for the same hours and also the disputes over which hours were worked, when and by whom.
Does the staff module allow anything other than rostering?
Yes, it means a casino can keep in touch with each of its employees and ensure compliance. Training is a major part of that and we can make sure that staff are offered and attend training courses to meet their needs and those of the company.
How secure is the system?
We have a firewalled server dedicated to each operation and this helps to guarantee information is kept safely.
How did the relationship with Grosvenor come about?
Quite naturally. We have gradually developed our systems and software within a gaming background and learnt and developed from our experiences with companies such as Paddy Power and Praesepe. The Grosvenor contract is a development of that. We are familiar with the particular requirements of the gaming industry and can speak the same language.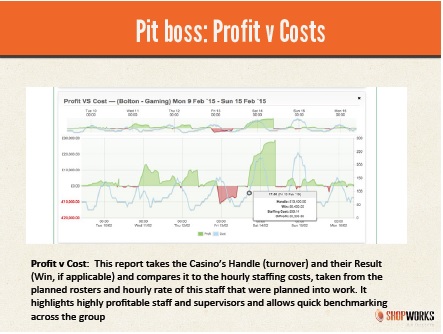 Grosvenor have been great to work with; implementing the roll out to 56 casinos in just a few short weeks and contributing lots of ideas to make their platform purely bespoke whilst making Shopworks a better product. We are delighted to be partners on such an important part of their business.
So how does the casino module work?
It takes a casino's budget and runs an approval system – so it in effect compares / monitors and controls how a casino is spending its money – on staffing and training for instance. In practice a casino management team has a lot of things to juggle – and this is a tool to help them. In an instant, 
certain items can be approved to a pre-determined financial level whilst managers can also see how their decisions, to employ staff for instance, have a bearing on the budget. If the budget for staff is X per month then the system will monitor how much is planned to be spent against that budget – by monitoring rosters. Too often a casino can overspend by not matching resources to need, by overstaffing. This helps to avoid that problem.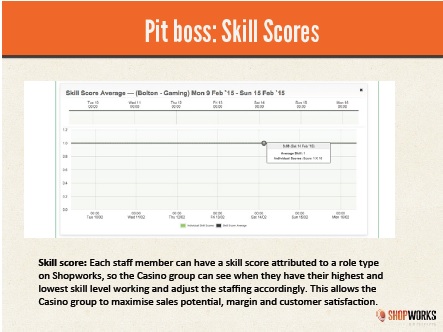 So how has the alleged 7% saving occurred and how confident are you of that figure?
It's true because whereas casinos before would overspend, in many cases unknowingly, now they are all generally operating within their planned budgets. An added benefit at HQ level is the ability to compare the figures from each casino – to benchmark performance and check that all casinos across a portfolio are running efficiently. This does not mean just looking at excessive expenditure – but also those areas where extra resources may help the bottom line.
So, you say you are now offering scheduling systems for 42% of the UK casino industry – what about the rest?
Give us time! 
For further information please click here!