We all remember the gargantuan hit that was Candy Crush Saga as for a while it was everywhere you looked and everyone seemed frenzied panic to crush candy. Brought to us in 2012 by games developer King, this match-three puzzler is considered one of the first and most successful games spawning the model we now call freemium, where players can progress through the game without spending any money, but revenues can be made from players who wish to pay for special features or actions. There are some impressive Candy Crush Saga stats out there, but the one that really captures the attention is the 550 million monthly active players it had in early 2015. Although figures seem likely to drop at some point, as we're five years after the initial boom, these numbers are still impressive. So astounding were the stats for Candy Crush Saga that it seems it's set the candy theme as a very popular one with both game developers and players. There's no question many are trying to repeat the trick and are so obsessed with candy that there are oodles of candy themed games out there now.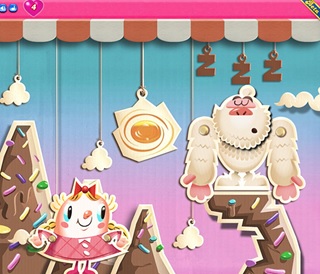 "Candy Crush Fan App1" (CC BY-SA 2.0) by Themeplus
On The Sweetie Shelf
Just tap candy into the search box of the App Store or Google Play and you'll see that the candy revolution is continuing with a vast amount of games available for the sweet-toothed gamer. King are still going strong with their original title and have followed up with Candy Crush Soda Saga (2014) and Candy Crush Jelly Saga (2015), but there are plenty of others trying to make a name for themselves with their sugary offerings.
Mobileguru appears particularly prominent in offering very similar games, with Candy Fever and Candy Fever 2 and developers Speedo Master, Juice Candy and Gamoper have also sweetened the pot with their candy themed puzzler games. Viewing all these similar offerings to Candy Crush Saga, it's tempting to think that they are all guilty of some sort of plagiarism, but in fact, all these games own a debt of gratitude to the flagship match-three game Bejeweled. Released way back in 2000 by game developers PopCap, Bejeweled has been played by more than 500 million people and it will be remembered as a hugely influential title in the casual branch of the video game industry. But it also seems to be a casino trend as well...
Image: Bejeweled via Facebook
Sugar Spreads 
Smartphones are taking the casino trade by storm and the iGaming industry has certainly taken interest in the success of candy themed games. just a cursory glance at leading online casino sites will reveal at lest one or two syrupy offerings that are sure to appeal to those of the Candy Crush Saga generation. So Much Candy is a slot on Betway Casino is brought to us by Micro Gaming as part of their So Many So Much series of slots - that also features So Many Monsters. As you'd expect from a candy themed game there are loads of varieties of candy with eye-catching bright colours and symbols in an appealing, clutter free layout that makes this five-by-three reels and twenty-five paylines game a popular choice. Microgaming haven't stopped there and now bring us Fruit vs Candy which is a new release and is currently featuring prominently on a number of online casino sites with the usual promotions attached. Fruit vs Candy is again a bright and dynamic game which features some original ideas, as players choose between two original games modes and have the opportunity to unlock up to fifty free spins. There are a few good reasons for developing slots with a candy theme.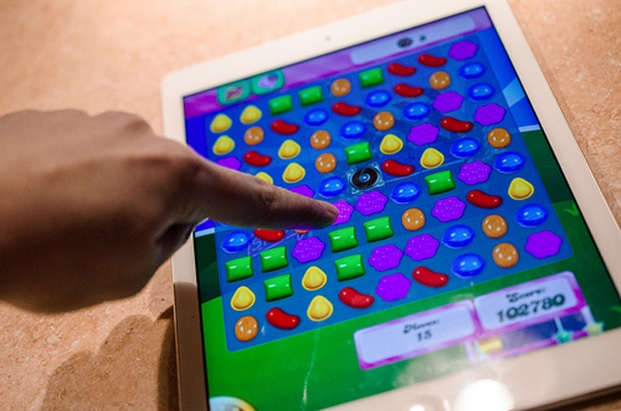 "Playing Candy Crush on ipad" (CC BY 2.0) by m01229
Candy Concept Works
Slot games are massively popular and it's become an increasingly difficult task for game developers to create a game or theme that connects with large swathes of the gaming public. The sheer variety of slot themes available are great and being able to find your favourite TV show, whether that be the current massive hit Game of Thrones or the 80s classic Bullseye, the range of choice is astounding. Yet, to have a sure-fire hit game developers need something that connects their potential customers and candy really does do that for a couple of good reasons. One is the Candy Crush brand and the massive appeal of casual games. The other factor is what's called the psychological anchor, where two very different entities become linked in your mind and for most of us those bright sweets we're manipulating on the screen are anchored to the emotion of happiness.
There are so many candy themed games out there. If you thought that this was just a bubble and something would come along to take the place of all those delicious, bright morsels of greatness you'd be wrong. Candy has a special place in our consciousness and until it stops tasting so great, game developers will always look to offer us a sweet something to keep us amused.