Martin Calvert of gaming-focused marketing agencyBlueclaw shares his insight into the most effective ways for land-based casino operators to win in SEO
and-based casino operators know that customers see them as many things – an entertainment venue, a social hub, a corporate hospitality an exciting experience and more.
Attracting visitors through the doors can be a challenge – but there are significant opportunities to casinos that can encourage their existing clientele to return more frequently, as well as attract wholly
new audiences and players. In this short article, we're going to talk about the role that local SEO can play in making your casino business visible and attractive.
What is local SEO?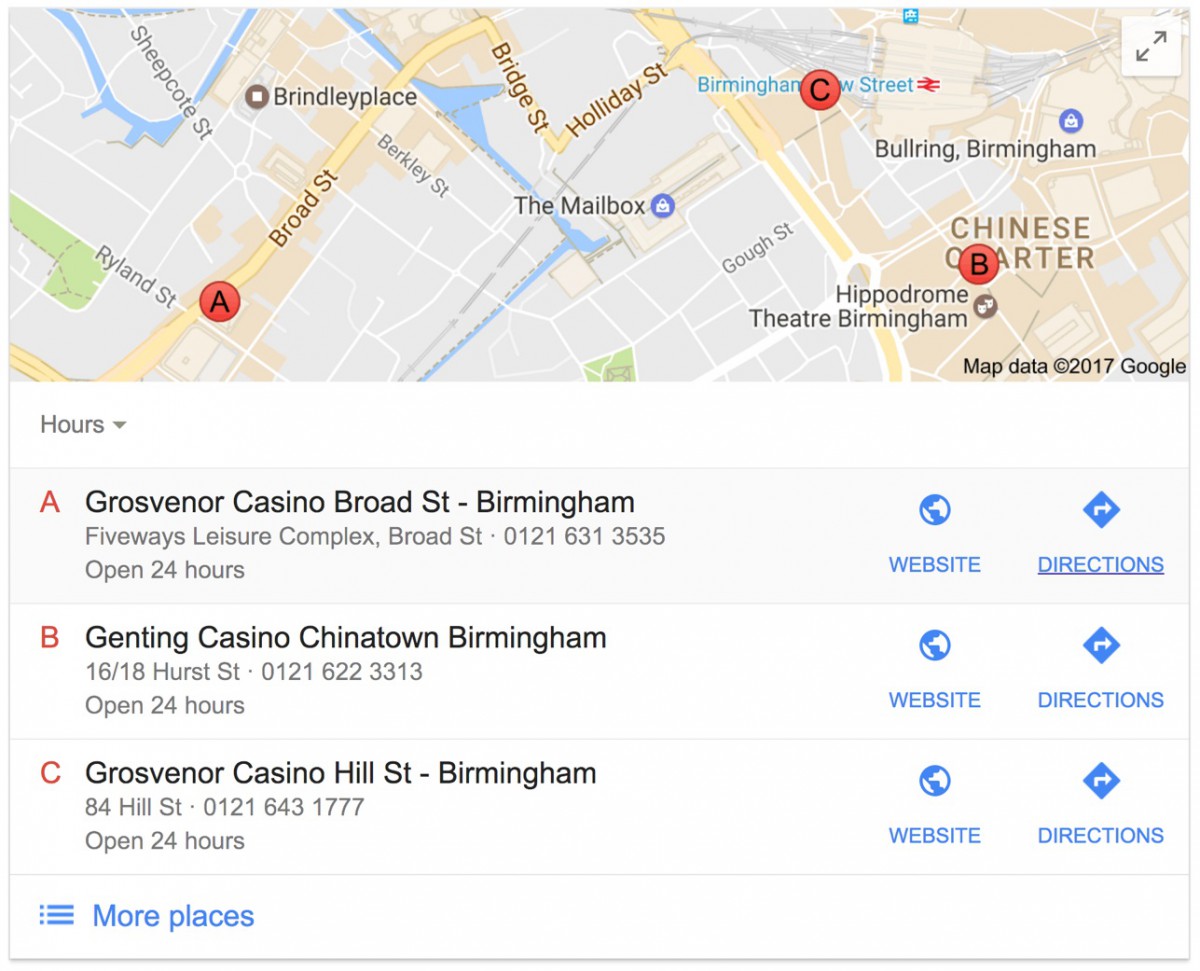 Search engine optimisation is the discipline of attracting new customers by carrying out strategies that make your business more visible in search engine results. Local SEO is the local dimension of this – ensuring that your business is visible in map views of local search results in specific regions, or showing up  in the coveted 'three pack' of businesses that you see in boxes at the top of Google results after conducting a location-based search such as 'casino Birmingham'. 
If your business is one of the top three listed, then you're in an extremely good position – but there is an issue.
These top three results change based on extremely small changes in searcher location. Two searchers looking for 'Birmingham casino', standing two or three miles apart but still in the city region will very likely see a different three-pack of results to each other.
This means that it is very difficult to control or optimise performance for appearance in the three-pack – what you can do as a casino is make sure you are being seen as a 'local' casino wherever possible.
Where there are a lot of competitors, clicking the map will take the user to an expanded view with up to 20 businesses listed.
Being included on this list is the important part – the searcher's own location shapes who appears in the top three-pack, but being in the top 20 that the three-pack is drawn from is partly down to your local SEO strategy.
So – how do you do it?
1. Complete your Google MyBusiness profile
Your MyBusiness profile (
https://www.google.co.uk/business/
) is essentially the hub for Google's direct knowledge about your casino business. You can supply a whole range of information that will help Google to categorise your site and your business correctly – especially locally.
Adding a profile and keeping it up to date with the most accurate information will mean that you're giving the search engine the information they need to understand your business – and there is a greater chance that snippets from your reviews, opening hours, pictures, reviews and more will show up in an actual search engine result.
This means that you increase your real estate on the page, displace competitors and highlight your amenities to be the most attractive option for someone searching for a casino in the region.
Remember – search engine performance isn't just about being found – it's about showcasing your casino as the place they'd love to visit.
2. Build links with local authority to your site
Having links from local directories and highly trusted, authoritative publications (even 'no-followed' ones) allows your site and your casino to be understood as a real business, tied to a local area.
You can earn these links by making sure that whenever you're featured in the local media, a link to your site is always included. Partner up with local blogs to get coverage and links from them – consider how to approach local businesses, local sports teams and more – but always get that link.
Directories like business listings are not as powerful for SEO as they once were, but they still signal to Google that you're a business with a strong presence in the region, and so should be shown in local search results.
3. On-page SEO
Optimising your website's content is key in local SEO. Again, your aim is to give search engines all the information they need to understand that you are a casino with brick and mortar locations that people can visit and enjoy.
Ensuring that your company name, address and location are featured at the footer of every page on your site, in the same format they appear in any directory, business or Google MyBusiness listings, to create a consistent record across the internet.
In terms of code, making sure your city/region is mentioned in the meta descriptions (and Title, Image Alt and H1 tags as appropriate) of your site pages will help local SEO initiatives.
Very importantly, this means when your casino appears in search results, you're telling the searcher where you're located in text. Using the fictional example of London-based 'Casino ABC', this might appear something like –
Discover the stunning Vegas-style Casino ABC on Oxford Street in London. Games, cocktails, entertainment and more – open 24/7.'
Making sure your on-page content and code is fully optimised and gives search engines and potential customers the accurate and inviting information needed to ensure that your casino performs well in search engine optimisation is the final piece of the local SEO puzzle.