Interview with Mark Prows, Senior Vice President Entertainment Operations, Corporate Entertainment – MGM Resorts by: Victor H Royer
Casino Life magazine recently had the opportunity to interview MGM Resorts executive Mark Prows, recipient of the 2017 Casino Entertainment Award at the 2017 G2E Gaming Convention in Las Vegas.
Mark was integral in the design and development of T-Mobile Arena, which has become a huge hit among sports fans locally, and those visiting for major events. A 25-year veteran of MGM Resorts, Mark began his career in arena management and design 35 years ago, progressing through front-line positions to senior level management at five different arenas throughout the U.S.
MGM Resorts International – a company that today owns and operates many of the world's greatest casino resorts – including MGM Grand and the famous Bellagio in Las Vegas – began in the late 1960s with its founding father – Kirk Kerkorian – who later became one of the most famous and successful businessmen of his generation.
A one-time owner of the renowned Metro- Goldwyn-Mayer movie studio (which today has no relationship to MGM Resorts International), Kerkorian is widely credited as among the early pioneers of Las Vegas.
He built the International Hotel in 1962—the largest hotel in the world at that time—whose first two performers were Barbra Streisand and Elvis Presley. Just four years later, he built MGM Grand Hotel which surpassed International Hotel in size and was larger, even, than the Empire State Building.
In 2000, long after Kerkorian had left the business, MGM Grand, Inc., the holding company he founded, acquired Mirage Resorts in what was then the largest transaction of its kind in the gaming industry. The new company, named MGM MIRAGE, acquired Mandalay Resort Group in 2005 and retained the MGM MIRAGE name until 2010, when the Company was renamed MGM Resorts International.
Since then, what once was a casino-driven Las Vegas-anchored operation, has become a global entertainment brand, offering the world's most exciting and diverse portfolio of guest experiences through a singular, unified strategy. No other company with roots in gaming has undergone a transformation quite like this.
A conscious strategy to take the best of its history, combined with the largest ambitions for the future, and executed with one common vision, has revolutionized the way MGM Resorts does business. Today, many of MGM's resorts are showcases of entertainment choices, and their global suite of experiences means that guests can find a little bit of the best of Las Vegas in locations throughout the United States, and in other areas of the world.
Mark, first I want to thank you for taking the time to speak with me. As you know, Casino Life Magazine takes great pride in interviewing leading industry CEOs and Senior Level Management to better understand both the companies that they work for or own, as well as what are the key attributes for their success. Please tell our readers about yourself and your role at MGM Resorts.
Thank you for wanting to speak with me; it is an honor to be featured by your magazine. I started in entertainment in college while majoring in finance but got hooked and never went on to pursue the law degree I envisioned. I began working through front-line positions and over the years, and several moves to different cities, was able to garner a breadth of experience across many venue types. I eventually reached senior level management where I am privileged today to oversee all of our major venues nationwide.
You were recently honored at the 2017 G2E with the Casino Entertainment Award. Please tell us about this award, and your thoughts about being honored for your 35 year career in the gaming industry.
This award is very humbling. It reminds me that learning how to mentor, lead and motivate a team are keys to success. There is no way you can do any of this by yourself. My team and I have worked tirelessly to continue to be the best in order to provide our partners and our guests the service they deserve while creating experiences that will last a lifetime.
In your career, what would you consider to be the highlights? We all have favorite entertainers, or celebrities we follow – have you had an opportunity to meet someone you admire? And then work with them?
Over all the years I have obviously met a lot of them and it would not be fair to single out any of them one from another. I value, admire and respect all of the entertainers with whom I've worked over the years. It takes a tremendous amount of focus, hard work, dedication and diligence for them to develop a career. There's a lot more that goes into an entertainment career than people realize, no matter what cog in this massive wheel in which you are involved. But one thing is for sure, it all starts and ends with talent.
Entertainment is a massive part of the Casino Resort experience – but what is it like for you, and MGM Resorts, to find, secure, and present such offerings, celebrity entertainers, and large events? Please walk our readers through how this happens, and how it is accomplished.
It's an incredible process that most people don't understand, nor would they need to if we do our jobs right! This industry, like most, is built on relationships. There is a huge supply chain in this industry and at every level it is based on trust. We leverage that each day and there is no other portfolio of resorts in the world that offers the breadth and depth of entertainment like we do. Over the years, the goal has been to be more than just a gaming company, and we have certainly accomplished that feat. It always is exciting to get a new celebrity entertainer on board. Additionally, this year we have welcomed another level of pro sports to the market with the Vegas Golden Knights to T-Mobile Arena, and the Las Vegas Aces to Mandalay Bay. Securing such great entertainment and overall experiences on all our properties takes a huge effort across many disciplines, and that success can be attributed to all of MGM Resorts' employees.
What has been the most successful approach employed by MGM Resorts for entertainment choices in a gaming-resort destination property?
We leverage all of our assets and are forward thinking to develop amazing venues and execute on associated strategies to fill them. As an example, we have helped develop the PBR, UFC and expand Boxing. As stated earlier, the most recent successful venture has been helping develop and integrate professional sports into the city through our company. We are extremely proud to welcome the NHL and the WNBA. MGM Resorts is now a top choice for Las Vegas visitors looking for a well-rounded experience as we provide gaming, resorts offerings and traditional entertainment such as Cirque du Soleil, and can now add other professional sports to that list.
Creating an enjoyable fun and relaxed environment is an important factor in Leisure and Entertainment venues. How are MGM Resorts properties positioned today – in today's competitive business and visitor environments?
We pride ourselves on being the most desirable entertainment company. Our resorts include gaming, nightlife, sports and entertainment. You can get the full experience within all of our destination resort properties and associated neighborhoods. Las Vegas is the king of all of that and we have found ways to mirror our Las Vegas model in the other markets in which we are expanding. We are thrilled with what we are doing in National Harbor (MD) and Springfield (Mass). Others can certainly try but no one can do it like we do, and people vote with their feet and wallets.
What would you say makes MGM Resorts unique as a choice in casino entertainment destinations in Las Vegas, and worldwide?
I would say our company sets itself apart because of the level of experiences guests receive at our properties, which do not exist anywhere else in the world. We have crafted our company from within to be able to engage, entertain and wow guests worldwide. There is a reason why I have stayed with this company for 25 years. This is an extremely progressive company with an amazing 'people' culture.
Image: Comedienne Rita Rudner was presented with a Casino Entertainment Legend Award
How have MGM Resorts entertainment facilities, venues, celebrity performers, and events evolved in recent years?
We've grown in many different ways over the years. The first is, of course, acquiring more properties throughout the years and developing a deeper, more diverse portfolio. This helped propel our splash into the entertainment industry because our venues have been crafted for the highly acclaimed celebrity performers we host night-in and night-out. The opening of T-Mobile Arena has been an integral part of our continued growth allowing us to host even more high-profile events and deliver other professional sports to Las Vegas. Park Theater has given us the ability to enter the artist residency world, while The Theater at MGM National Harbor has helped us leverage the touring market even deeper on the east coast along with the Borgata and Springfield assets.
Is it possible for MGM Resorts to improve yet further on the entertainment facilities and events as they are now? If yes, what are the plans, and who are the entertainers, and events, planned for 2018?
Our company always looks to make improvements on our facilities and events. We have done that recently and will continue to follow that aggressive path. For example, since acquiring the WNBA's Las Vegas Aces, we are devoted to welcoming the team, its staff and players to Mandalay Bay. The team will play 17 regular season games in the Mandalay Bay Events Center, an opportunity that gives us the chance to renovate the 12,000-seat venue so we are game-day ready.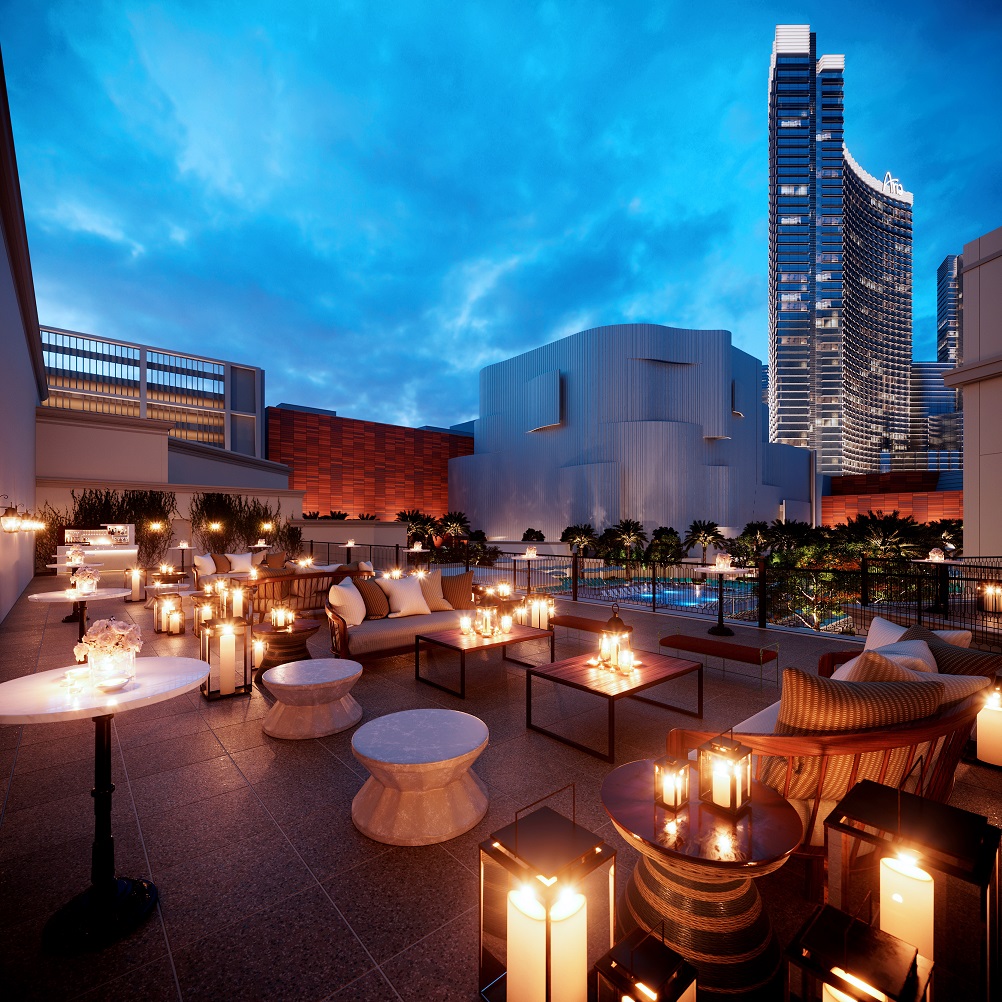 How has MGM Resorts developed over the years in its ways of providing promotions and incentives to its guest in accessing entertainment options, tickets, facilities, and resources?
We have evolved by giving guests easy accessibility to our wide variety of amenities. We are constantly working on enhancing processes and systems to book a hotel or get tickets to anything on our properties. We want to help make our guests' stay as convenient as possible, and that begins at the very idea of visiting the destination. At the ease of their smart phone or computer they can take a virtual tour of what they want to experience with our shows and events.
What is the split between local, tourist and travelling business guests for whom MGM Resorts caters? What percentage of each of these groups access entertainment facilities, shows, and events? What type of entertainment are each of these demographics choosing?
We see a nice mix of both locals and tourists visiting our properties. It obviously is heavily dependent on the type of event. We also have a large number of business travellers - a result of being home to many large conventions hosted in our renowned convention spaces. We find our offerings are attractive to all demographics because we have such a variety of entertainment options and venues.
MGM Resorts is known for its excellent private suites and salons; how have these private offerings helped MGM Resorts? Is there a correlation between entertainment offerings at MGM Resorts and higher-than-usual occupancy for such private facilities?
I can generally say the strategy for our resorts is to offer the leading experiences and amenities in the hospitality and entertainment industry. It is a priority for us to be the leader in service standards to ensure our guests get what they expect when booking a stay, or an experience at an MGM Resorts venue. Our development and design teams are second to none. Yes, all of this helps us in entertainment booking and operations!
What about the general guest, such as the traditional tourist – how do they access the best of MGM Resorts entertainment options and facilities? What do they get? Or can get? And how would they go about getting it?
Both locals and out-of-town guests have access to the best of our MGM Resorts entertainment options and facilities. They get the top-of-the-line luxury experiences whether they live in Las Vegas and want a staycation, or are travelling from another city/country and want that ultimate vacation experience.
Promotions and incentives are an important mix for patron loyalty. What are the provisions like at MGM Resorts regarding prizes and rewards for patrons? For example – is there a points-system for guests purchasing entertainment services, such as tickets to shows, events, and so on?
We want to reward all of our guests every time they visit one of our resorts so we have developed the M life Rewards program for guests to be recognized for their loyalty. Anyone can sign up at any time and join for free. By being a member of the M life Rewards loyalty program, guests all over the world can enjoy the Las Vegas lifestyle along with "behind-the-velvet-rope" access, special offers and many other benefits.
MGM Resorts is currently remodeling the Monte Carlo – what entertainment offerings are planned for the newly-redesigned property?
As previously mentioned, we have Park Theater at Monte Carlo that already is home to many A-list performers including Bruno Mars, Cher, Ricky Martin and the recently announced special engagement with Lady Gaga. Once the transformation is complete, I am confident Park MGM will be one of the most popular resorts along The Strip. The entire experience is enhanced by the neighborhood highlighted by The Park across the street and the adjacent T-Mobile Arena.
How would you sum-up the future of entertainment in Las Vegas? And for MGM Resorts?
Las Vegas is a very vibrant and resilient city. I know it will continue to be the entertainment capital of the world and MGM Resorts will remain as the industry leader when it comes to the wide variety of entertainment options we offer to any market we enter.
Thank you, Mark, for your time, and for sharing this with us, and the readers of Casino Life magazine.
2018 Monte GRAMMY Award-Winning Superstar Lady Gaga Announces Two-Year Special Engagement at Park Theater in Las Vegas Beginning December 2018
Recently MGM Resorts also announced the signing of Worldwide Super Star Lady Gaga to an exclusive engagement at the Park Theater, which is located inside the Monte Carlo Resort and Casino.
Six-time GRAMMY Award-winner, Golden Globe Award-winner and Academy Award-nominee superstar entertainer Lady Gaga will bring her one-of-a-kind talent and creativity to the stage at Park Theater at Park MGM in Las Vegas beginning in December 2018.
Lady Gaga said, "It's the land of Elvis, Tony Bennett and Frank Sinatra, the Rat Pack, Elton John, Judy Garland and Liza Minnelli. It has been a life-long dream of mine to play Las Vegas. I am humbled to be a part of a historical line-up of performers, and to have the honor of creating a new show unlike anything Vegas has ever seen before. I'll tell you exactly what I told my MGM and Park Theater partners - you can count on this performer always for one thing … I'll leave my heart on the stage every single night. Thank you to my fans for always believing in me. Meet me in Las Vegas baby, we did it!"
Bill Hornbuckle, President of MGM Resorts International said, "Our announcement today of Lady Gaga joining an amazing lineup of talent at Park Theater is monumental for Lady Gaga fans, MGM Resorts and the Park MGM brand. We have all been wowed by Lady Gaga's raw talent, but the passion, commitment and creativity she is prepared to bring to this engagement will truly be transformational…Las Vegas, get ready to become the Entertainment Capital of the Universe."
Victor H Royer is President of Gaming Services & Research. He is a 33 year veteran of Las Vegas gaming, a 26 year consultant to the gaming industry, author of 47 books, and more than 4,000 articles on casino games and gaming. In addition he has researched and authored over 300 industry reports on the subject of player preferences, marketing, player development and customer relations. He can be reached at: DrVHR@aol.com