How has business been since our last interview which took place more than 2 years ago?
When we were speaking last time, the long planned concept of integrating all our offers into one open space, that we understand as a "Centre for Entertainment for grown-ups" has just come of age. As one of the last steps, the former hotel lobby has been integrated into that space. Our guests like this concept. Once they have passed by the entrance control, they have direct and unlimited access to our event hall CHAPITO, to the gaming floor, three restaurants, four bars, a hotel and all peripheral offerings.
In the last two years, we went through a "trial and error" phase, in order to find out how we could use this new concept and our new infrastructures to their full potential. It has been a fascinating experience for us to see how the entire team has evolved to a new level of professionalism. The whole team has literally been running all the time, meaning it is, for the moment, in a very good shape. What is remarkable, is that our teams constantly seek new goals and approaches to improve their output and to increase the number of activities that we propose to our guests. So the last two years were necessary to
learn how to work with our new infrastructures and combine everything in a logical, thoughtful and strategic way. That learning phase will of course never end, but already now we are able to guarantee a smooth interdepartmental work and integration of the new facilities into our day-to-day business.
The huge expansion of our premises was only possible because of the company's shareholders, who were eager to invest at the right time. After a period of planning, they did not hesitate to start building the project in 2009, even though the financial crisis also hit Luxembourg that year. This expansion has initiated a wave of engagement and a change to our company culture as a whole, which surprisingly is not limited to the integration of the new concert hall, but spread throughout all other services we offer.
To those of our readers who enjoy Casino facilities, what would you say that would urge them to add CASINO 2OOO to their must visit list?
In short, CASINO 2OOO is a one-stop location for entertainment purposes, the right place for any entertainment seeker and for people who enjoy having fun, to gamble and to have a good bite.
Furthermore, it is a casino with more than 2.500 m², an event space of 1.300 m² with a 270 m² large stage fully equipped with modern sound and light technology, other reception spaces, a hotel with 28 rooms and 3 suites, a luxurious Villa, a gastronomic restaurant, a buffet restaurant and a music & lounge bistro, 4 bars and 210 great people willing to serve, to help and to make you comfortable.
We are probably the only "fully" integrated entertainment centre in Europe, as our hotel is also behind the entrance control. Very comparable to the casinos in Las Vegas, not by the size, but in implementing its strategic rule #1: customers have to cross gaming spaces before they get to all other places.
I am well familiar with many different casinos throughout Europe and think that we combine a lot of good ideas that I have seen elsewhere and do everything to provide the experience and service our customers expect. We are 20 km away from the closest Cities in France and Luxembourg, but we manage to attract half a million visitors every year.
Has the percentage of tourists versus locals changed much in that time and have you found any interesting trends?
We are constantly analysing the customer base, their interests, satisfaction, habits, consumption etc. There have been some minor changes in the last year and we know the reasons for this; we have even generated changes by making proposals for entertainment and gastronomy to a particular clientele.
Image: SIMPLE MINDS by Waterfront C Claude Piscitelli
Our casino is located in the Southeast of Luxembourg, on the French border and only a few kilometres away from Germany, so there are a lot of "Tourists", meaning people from abroad. But as for the overwhelming majority of the European casinos, our clientele is over 90% regional, with locals coming mainly from 3 population reservoirs: the City of Luxembourg and the surroundings, the Thionville, Metz, Nancy area in France and the so-called "Terres rouges" in the south of Luxembourg.
Image: JIMI HENDRIX by Voodoo Wild Festival Casino 2000
With the completion last year of a motorway connecting the City of Luxembourg and the "Terres rouges" to Mondorf-les-Bains, where our casino is located, we have seen our customer base increase, in size and diversity. The fairly new connection was needed and is now very direct, quick, easy and convenient for our customers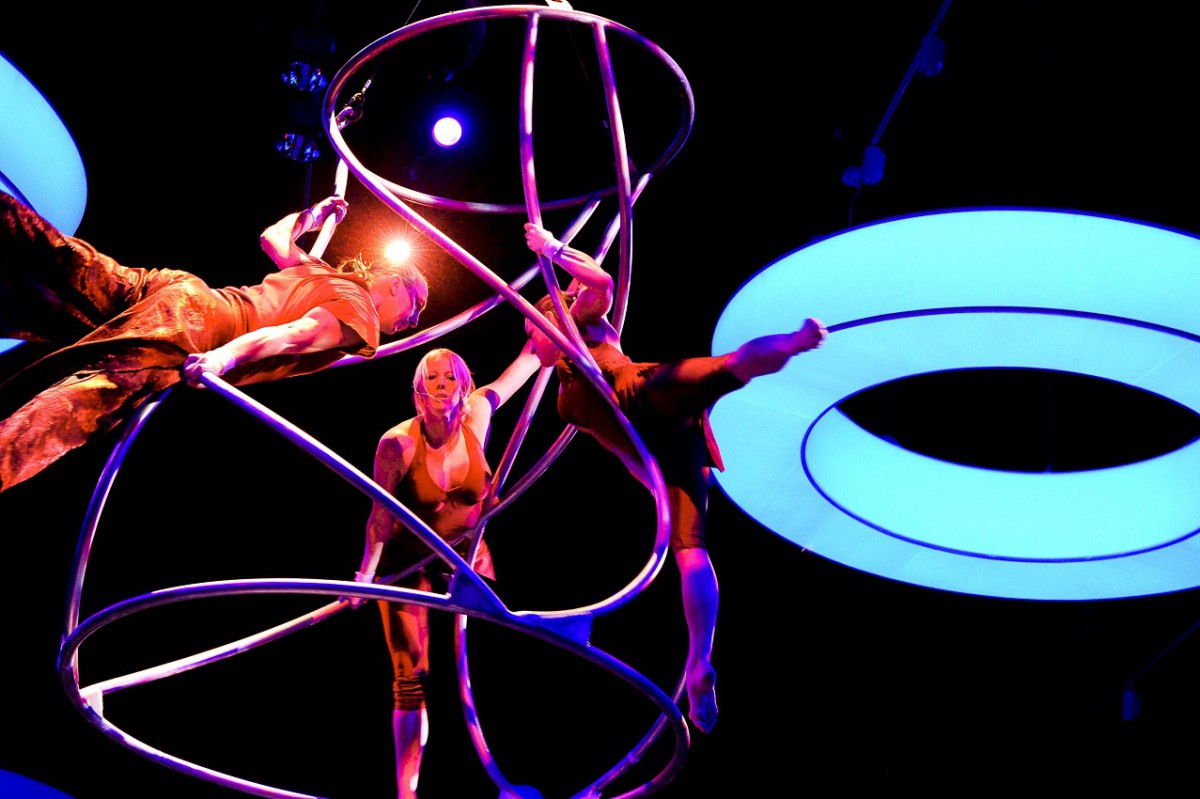 With the advent of social media a lot of people look for memorable experiences which they share with friends on Facebook. How is CASINO 2OOO catering for those people?
We are always following new trends, whichever direction they take. When Facebook became popular amongst our regular customers we set up a social media strategy for the purpose of increased customer interaction and engagement. We are pleased to see that our followers on all platforms are steadily increasing. We see positive comments and even debates about our offerings. Moreover we see that a growing number of friends have become real ambassadors.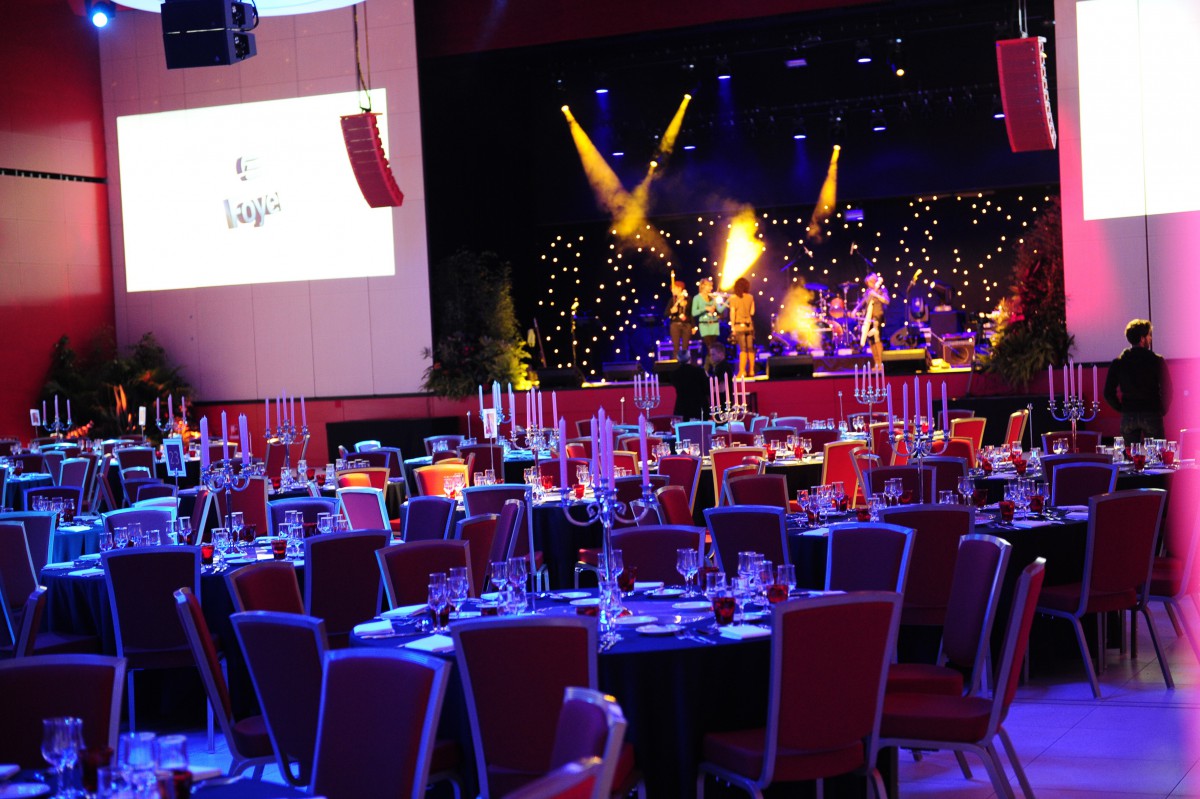 For 2018 we are planning to increase our presence even more. A totally new website will go online later in February, which will facilitate the link between the more static internet and the direct and continuous interaction that the social media allow From our point of view, those two topics can no longer be seen as two different marketing tools and need to merge, where one is complementary to the other. We expect a majority of our customers to use a smartphone for visiting our website and to switch to Facebook and other social media. For example: the information about an event can easily be transported and promoted via a video clip in Facebook with a direct link to our website to get more details and from there another link to a service provider that sells the tickets that the customer can directly print at home.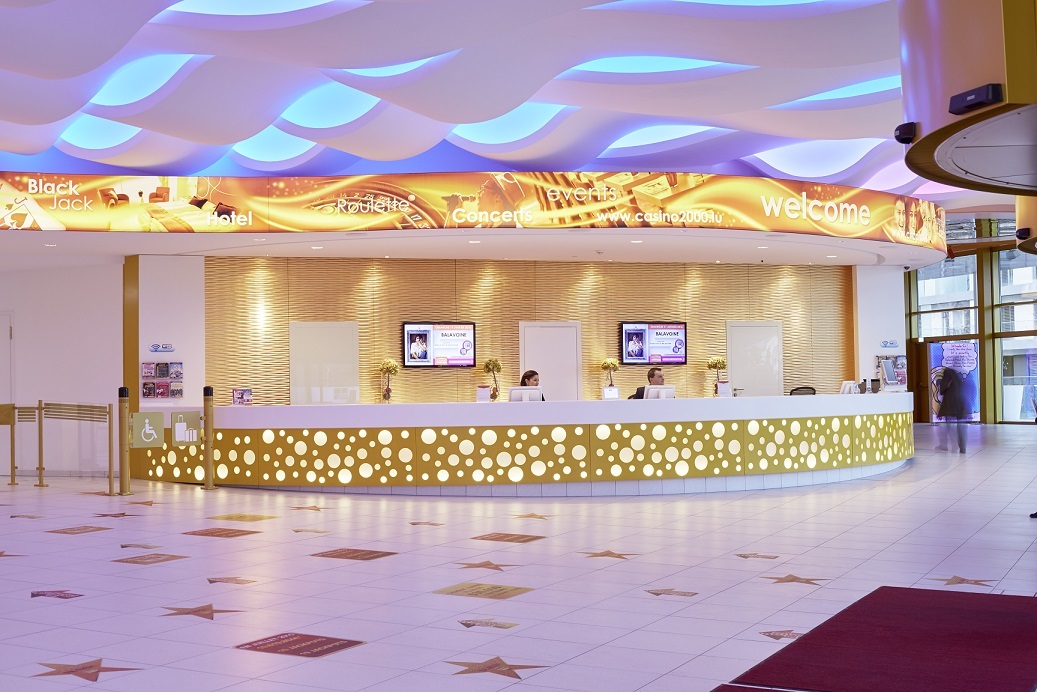 Image: Reception Casino 2000
Your casino is located in a cultural melting pot with players whose first language may not be German or French. How do your staff cope with this from a language perspective?
Luxembourg is effectively a melting pot. The country has, at nearly 50%, the highest proportion of foreigners in Europe and its population is represented by 174 nationalities. On workdays, 75% of all employees are foreigners, as around 180 000 people cross the borders of Germany, Belgium and France to work in Luxembourg.
The 3 most important languages within our casino are certainly Luxembourgish, French and German. The local language has become much more important over recent years and we organize regular language classes for our staff. English has, as ever, been very important in Luxembourg due to the EU institutions and the international (financial) businesses. Most of the Luxembourgers speak 3 or 4 of these languages. Our staff is mainly French, but many of them have multilingual skills. People working in service jobs in Luxembourg mostly speak French and this is also the most used language in our casino.
Over the years, how has the venue reached out to embrace the local community?
With the increased rhythm of our events, we are able to reach out to new customers and we have increased the penetration of our catchment area, by organizing events with artists that are famous in Luxembourg and in France. We are also engaging more and more in co-productions, where we get in touch with other event agencies to increase still further our brand awareness.
Some good examples of this would be the election of "Miss & Mister Luxembourg", hosting the "World Warriors Fighting Championship (WWFC)", the "LGX -Luxembourg Gaming Xperience" (e-gaming) and of course we were very happy to have the departure of the 4th stage of the "Tour de France" last year here around the casino. We are experiencing an increasing popularity and brand awareness amongst the Luxembourgish and French populations due to the variety of events we organize or host.
The internet has become a strong competitor for land based casinos. How does it challenge your business?
All the technological advancements have also brought disadvantages for our industry. In recent years, many illegal gambling offers have affected our business.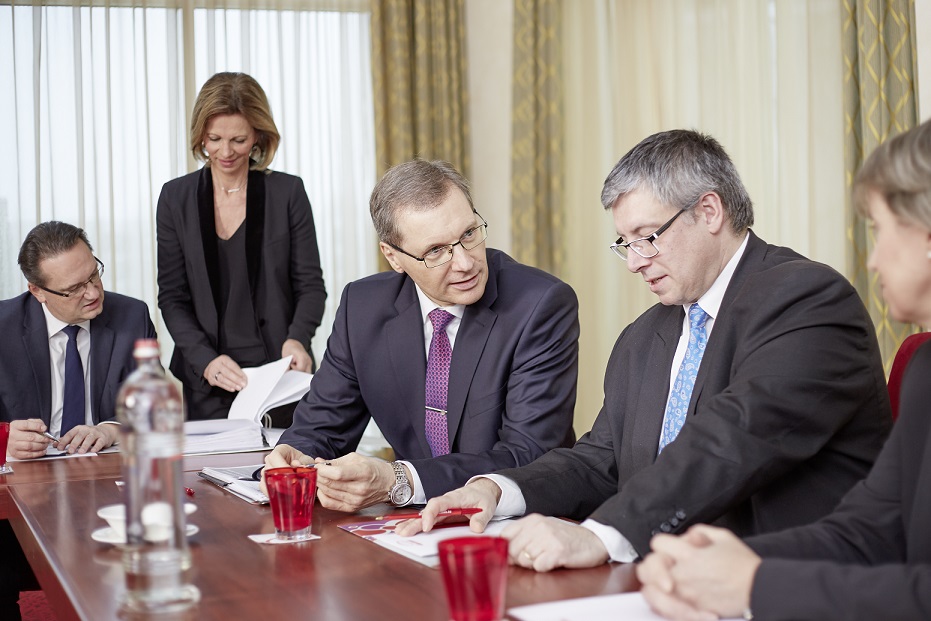 At the moment we are facing internet terminals used for illegal online gambling and betting purposes in many cafés here in Luxembourg. Estimations range from 1200 to 1400 of these terminals throughout the country, which generate tax free revenue of more than 40 million Euro. We estimate that a similar figure is lost every year through illegal online gambling websites. Under these unhealthy conditions, we nonetheless achieve good results through our efforts and investments.
2018 could become an important year with regard to the regulation of online gambling in the EU. In my opinion, it is a real chance to install strong national State regulation and control. Up to now, there is an enormous lack of understanding by the general public and many politicians about gambling provided through the internet. More than 18 billion Euro were generated in 2017 in Europe; too often by operators that didn't have the required national licenses and who profit from low taxation and control. This means that each EU citizen lost round 35 Euros on average.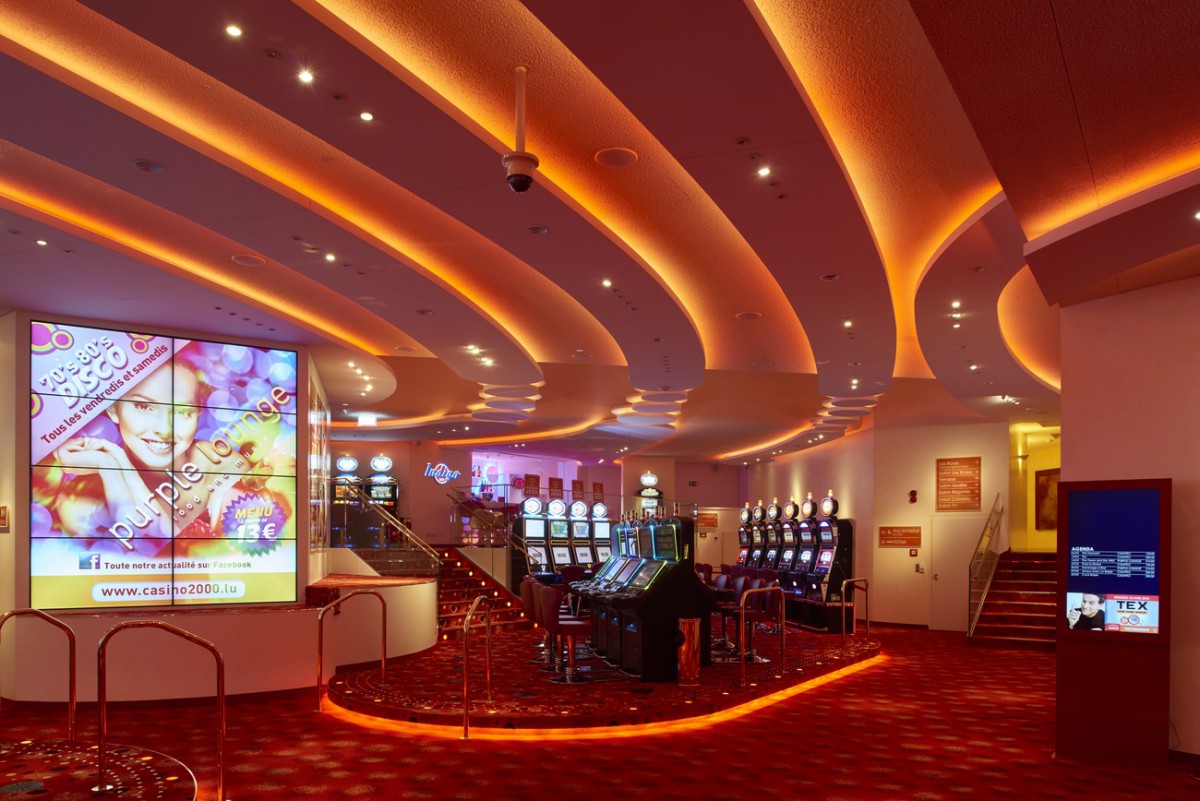 Image: Casino 2000 Slot Area
The spending is certainly even higher in the Western European countries. Not too difficult to understand that the estimations by some governments are wrong. I have observed the evolution of this market over many years. So far, in my view, all attempts at regulation are pretty poor. After all those years, I can't see a serious approach to player protection, the protection of minors and vulnerable people, the fight against money laundering and crime etc. This situation is going on day by day and year after year. It should finally be brought under control. My recommendation would be to leave gambling under national responsibility. Each Member country is best placed to decide for their own market. Regulators should be enabled to oversee all gambling products within their country and to steer them in a responsible way, as wanted (or not) by the national government. And all technical means should finally be used to keep illegal gambling out of the market.
Image: Thierry Corony President European Sommelier Association
Technology plays such an important part in our lives and it has certainly affected our leisure time. How has it affected the offering within your casino?
We are using the new technologies to our advantage in order to increase our competitiveness and stimulate additional revenue streams, by concentrating on improving our gaming offer, by adapting the systems we use to our needs, by analysing the demands and results very deeply and by using all available marketing tools that are able to reach out to our target groups.
Image: Casno 2000 Restaurant Menu Les Roses - Dish
We have just introduced a new customer loyalty program, which we call BONUS. This program will enable the customer to get back a certain percentage of his bets played, in promotional credits, which can be used for free games, or exchanged for cash.
95% of our GGR is generated by slot machines, very similar to the French market. Having the newest and the most attractive games is key for our business. Due to continuous investments in new games, we are well set for 2018 and beyond. Accelerating further our event calendar, improving the gaming offer and the implementation of the additional loyalty scheme, will be major pillars supporting our sustainable growth strategy.
Image: Casino 2000 Restaurant Menu Les Roses Lobster
What do you think will be the biggest challenge to growth? Is it the lack of movement on the regulation front?
One of the major future challenges will be to keep and increase our market share. Since 2007, the land based casino market has lost 30% throughout Europe, due to the Financial crisis, the smoking ban, the rise of online gambling and so on. With the intensification of online offers and an ever aging customer base, the competition will increase and every operator will try to capture market shares from its competitors.
Image: Casino 2000 Restaurant Les Roses
Online gambling will certainly grow and probably double its GGR over the coming years. Thanks to smartphones, people now gamble everywhere and when ever they want. As the statistics from the French online gaming regulator ARJEL show, there is a big mass of rather small players, but also the 1% of high rollers, that alone generate 50% of the revenues. Sports betting will be the growth driver. Virtual sports, Fantasy sports, e-Sports and e-Gaming are attractive alternatives for the "Millennials".
The future of the casinos depends very much on the game suppliers, the politicians and the regulators. The increase of table game revenue was to be expected, but will not provide sufficient profit for replacing the 75% GGR that are still generated by slot machines in the European casinos. So it will be the industry that has to deliver the next type of an electronic game of chance that will help the casinos to be successful in the future. Those games will probably be more complex, more rapid, more interactive and favour competition amongst players. And they must address more senses, in order to differentiate from computers and smartphones.
Image: Casino 2000 Slot Room
We live in interesting times. The EU has guaranteed economic growth based on decisions that were taken rather on economic than on democratic grounds. But this could change. With the increased offer and availability of games of chance the total spending has also increased. And certainly also the problems arising from gambling. At a certain stage, politicians and regulators will have to respond. So the question is, will they recognize that the land based casinos have done a good job in protecting their customers and in fighting money laundering and crime?
Many years ago you started an impressive initiative for protecting your players. Is it still active?
Yes, we started our "Play it Safe" player protection program in 2002. It is a good piece of self-regulation, far above the requirements of the regulator.
Our government is very close to the casino, due to the size of the country. Here in Luxembourg we say that everybody knows each other. Therefore, what we do is very transparent. And this counts for everything we do.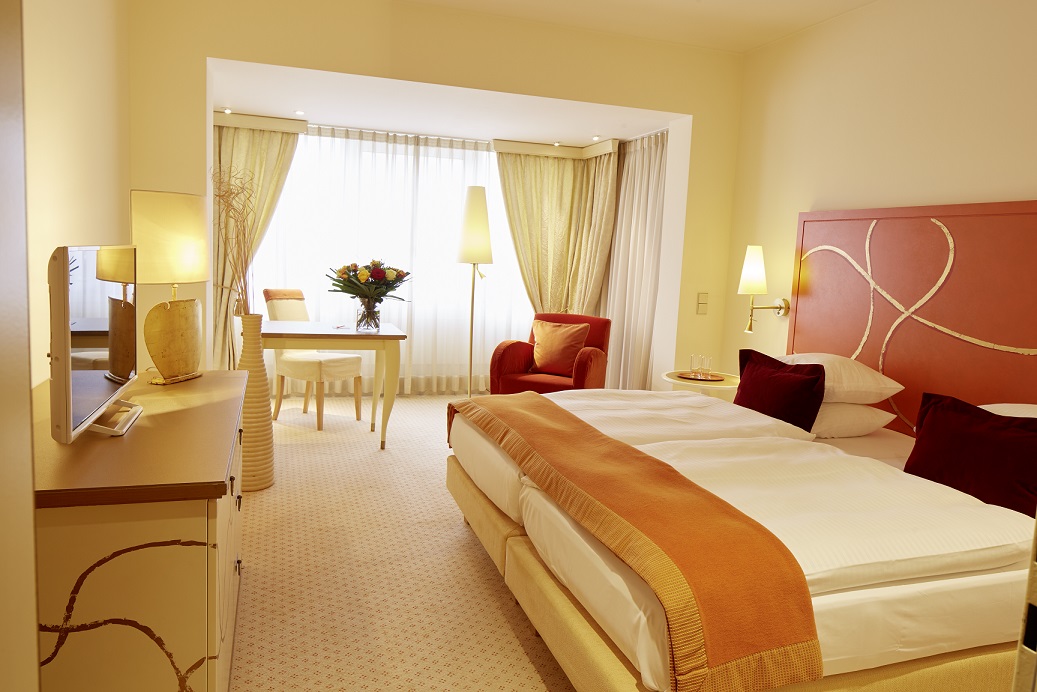 Image: Casino 2000 Hotel Room
Play it Safe is a pro-active player protection program that has been successfully audited to the ECA's "Responsible Gaming Certification Framework" in 2015 as one of the first casinos in Europe. We take it very seriously, as we do other programs; for example, the fight against money laundering.
Creating an enjoyable fun and relaxed environment is an important factor in Leisure and entertainment venues. How well is your Casino prepared?
I like the words "Joy", "Fun" and "Relaxed" in your question. I think that "Comfortable" and "Secure" are also important. Over the last six years, we have invested more than 42 million Euro, mainly into our event facilities. Architecture and technology is one thing, but without human interaction it cannot provide emotions and personalized experiences. A lot of our efforts are concentrated on this subject.
Image: Tour de France -Garden table
For decades we have been running restaurants and providing entertainment in their widest sense. We see those businesses as important as the casino and our internal discussions, analyses and strategies cover all those pillars equally. In 2017, we prepared more than 140 000 meals in our different kitchens and nearly 100 000 people have participated in our events or those of our clients. So I think that we mix those offers much more than most of the other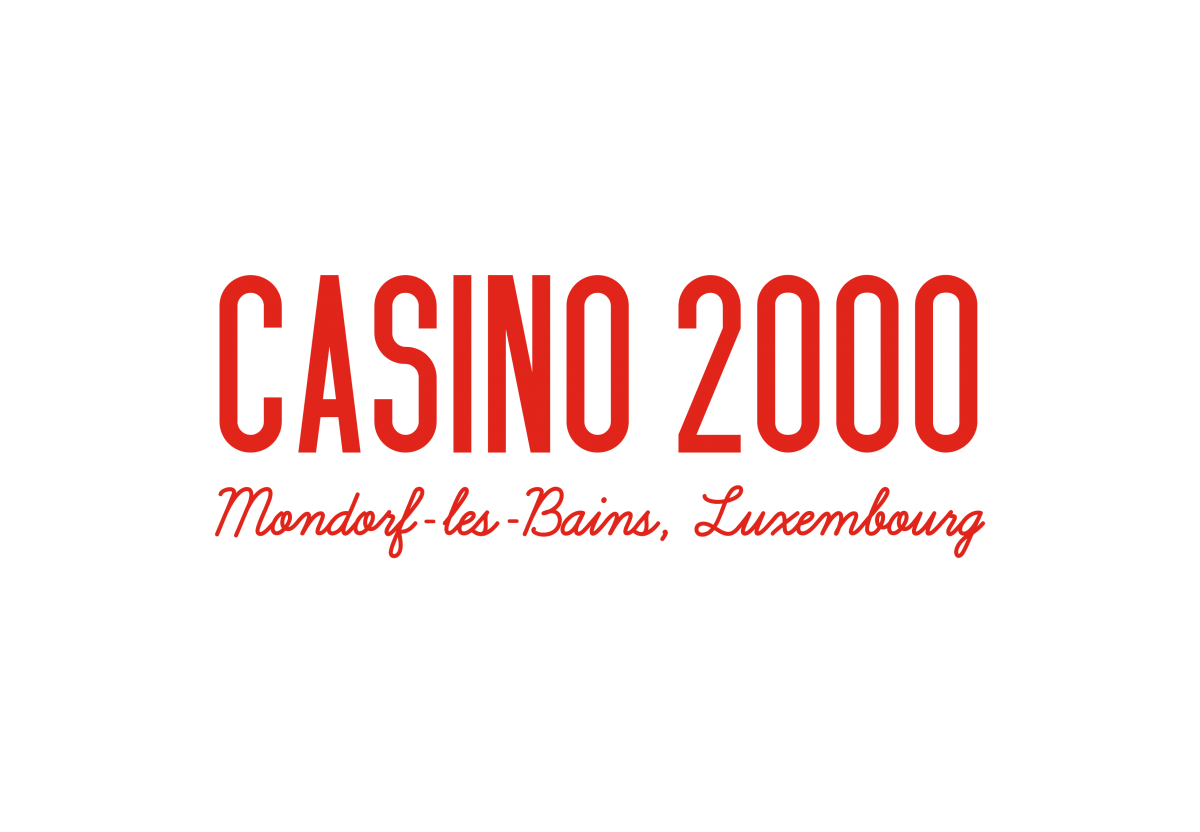 casinos. And the customer that comes for one of our products will discover all the other possibilities that we offer. In this way, most of them come more than once.
How do you see the future of CASINO 2OOO?
I see the future of CASINO 2OOO as very fortunate. Besides all the challenges ahead of us, we are perfectly set for the future. We have a very great team of experienced and engaged professionals. I absolutely trust that they will find the right answers and solutions to guarantee a bright future for our casino.
Thank you, Mr Guido Berghams for your time, and for sharing this with us, and the readers of Casino Life magazine, Glyn Thomas Editor in Chief.